We left Bangkok 25 days ago and have made our way north through Ayutthaya, Sukhothai, Chiang Mai and to Pai. From there we double backed to Chiang Mai and went east to Chiang Khong where Thailand borders with Laos. We crossed the border into Houay Xia and the took a slow boat to Luang Prabang with a short night's stop over in Pak Beng. For the sake of keeping this entry brief, I'll only go as far as our first stay in Chiang Mai.
While Bangkok felt much more like a Sydney or New York, with a large scale infrastructure- Chiang Mai (at least the old city) felt much more like a Melbourne without many sky scrapers but lots of soi alleyways that are full of cafés, bars, restaurants and guest houses. It also seems to have a much more concentrated population of western tourists than I've seen previous.
Soccer field between Ayutthaya and Phitsanulok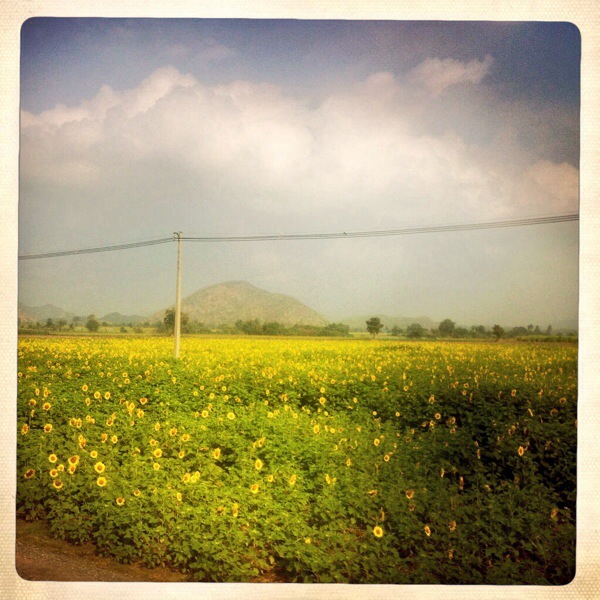 Sunflower fields between Ayutthaya and Phitsanulok
Arriving in Chiang Mai felt like a big change from both Ayutthaya and Sukhothai which were smaller towns built around specific historical sites full of temple wats and Buddha statues. Likewise, the western populations were smaller with less bars and establishments catering to the tourist trade. The prices were noticibly cheaper- beers in both places were around 60 baht (~$2) for a large bottle of beer (~21oz or 630ml) at a bar while in Chiang Mai it can be as high as 120 baht (~$4). I'm assuming this is due to more bars in Chiang Mai that cater specifically to westerners with money while bars in smaller towns might serve both Thais and westerners but then again whenever Katie and I tried to find a bar specifically aimed at Thais we were unable in either Ayutthaya or Sukhothai, leaving me wondering if most Thais drink at home with family and friends.
We found one exception the other night when we met up with a couple from Portland, Oregon named Joey and Jeanne who we had met previously at our guesthouse back in Sukhothai. We had run into them on the street in Chiang Mai and that evening, hailed a songthaew to head out to Anchan, a vegetarian restaurant out of the old city on Nimmanheiman Road.
Joey
Jeanne
After dinner we went to a bar called The Beer Box. We chose it because it was an open air bar with Katie's favorite beer, Hitachino Nest White Ale, on tap. We sat out on their patio while Joey told us stories about his 3 months living in Cambodia where he was installing water filters as part of his grad work and gave us general travel advice over a bowl of prawn chips. Our server was Thai but spoke fluent English- she turned out to be a co-owner who grew up in Colorado and moved back two years ago. As we wandered around the area the change from the old city felt drastic- the younger Thais looked like they could be any college kid in the states, there was a distinct lack of sexpats and I momentarily felt like I could have been back in Allston or Cambridge on a summer night.
Being back in a city had its ups and downs- it's nice to get a decent cup of coffee, stock up on travel supplies at a modern mall, eat at vegetarian restaurants or get a craft beer on tap at half the price of back home. At the same time, cities come with a higher concentration of westerners and everything that comes with it- I'm convinced that the greatest danger to my health in Chiang Mai were westerners on motorbikes who don't seem to be able to fall into the rhythm of traffic the way in which Thais do, it's as if they can't tell when to speed up versus when to be patient- or that they lack jai yen ("cool heart") as it was described to me by another traveller.
The more I talk to other travelers the more apparent it is that our experience contains a lot of the common annoyances of hanging out in Thailand. In Chiang Mai, we had been staying near Loi Khro Road. Up and down the street there are bars, cafés and massage parlors- one of the hardest things we found when looking for a bar was trying to find one that didn't have Thai prostitutes inside. It's a surreal experience to walk down a street where you have entire families with kids going out for a French meal or on their way to the night markets right alongside theme bars where white dudes are picking up Thai girls often half their age and a third of their size.
When I was back in Bangkok I saw a sign on Soi 55 off Sukhumvit for Thai language intensives and I've been kicking myself since for not taking them up on it as the most difficult aspect of the trip is my lack of language skills- it makes it hard to have an interaction with a person that isn't strictly transactional.
While we didn't do any language courses, we did manage to schedule in a cooking class at a single room restaurant named Bamboo Bee that specializes in vegetarian food. The place is ran by one woman named Pantip Dalajan who does both the waiting and cooking on demand. We had heard of it from Joey and Jeanne earlier in the week and after eating a spicy Isan style salad there I was sold on taking the class.
Pantip in front of the Bamboo Bee
We showed up around 10am and she did a quick run through of the ingredients, we picked out about five meals to cook and she got us started on chopping and prepping. About a half hour later we got to cooking and 20 minutes after that sat down to eat a substantial amount of food. It was before noon so there weren't any customers yet and we spent awhile talking about where we were from, why she started a restaurant, thoughts on food and specifics of cooking. We were still in the process of producing fake meat from gluten when customers began to show up and we got see more of how she ran the restaurant. Since she was cooking for a group she showed us how to make the additional items she was preparing, explained why she makes them the way she does and possible variations. We ended up sticking around another couple hours and in the end felt like I was legitimately getting to know someone Thai for the first time since I've been here.
That said, we have met plenty of cool westerners. Back in Ayutthaya we met a Swiss girl named Claudia and a Dutchman named Mark while staying at our guesthouse, we joined up with them the following day to cruise around in a tuk tuk with a driver Claudia had booked prior. We saw some fairly impressive wats outside of the main park, had some beers at the floating markets, and I'm fairly sure the place we ate dinner that night was actually a brothel on account of a constant buzzing noise coming from the back and the anxious attitude of the waitress.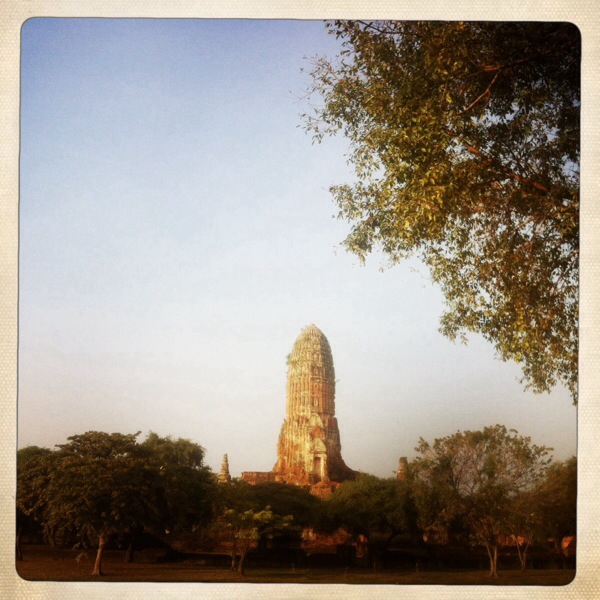 Wat Phra Ram – Ayutthaya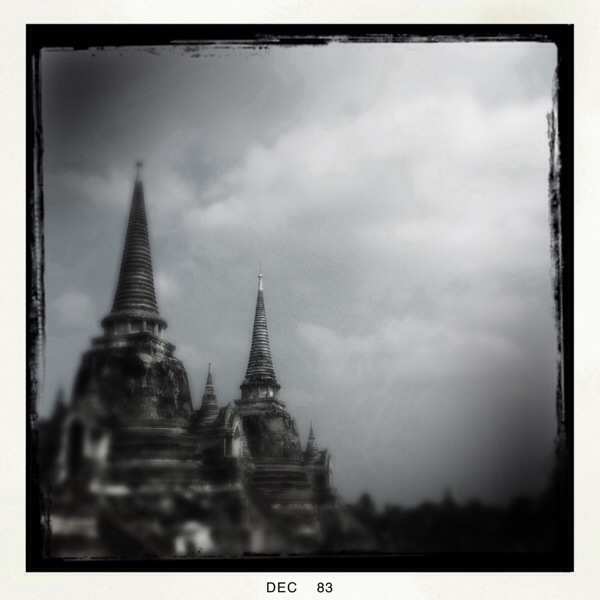 Wat Phra Si Sanphet – Ayutthaya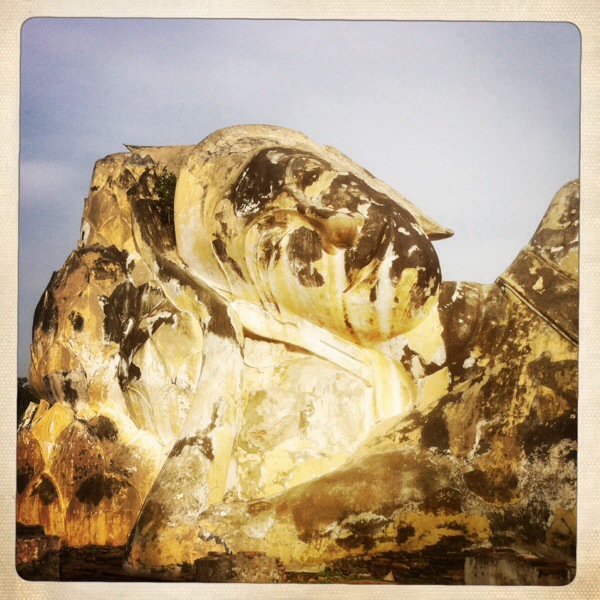 Reclining Buddha – Ayutthaya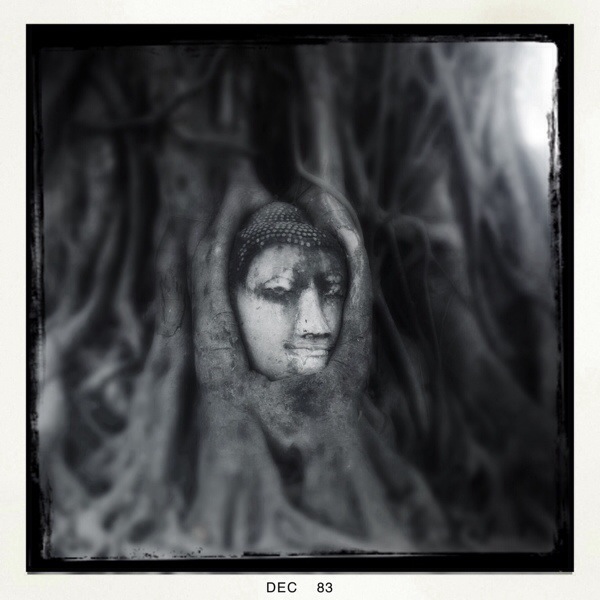 Wat Mahathat – Ayutthaya
We also hung out at Sukhothai Historical Park with a New Zealander of Chinese descent named Andrew- he had work for the NZ department of immigration before leaving to pursue long term travel. He gave us plenty of advice on visiting other places in Southeast Asia, showed us some photos of a couple kids whose education he's sponsoring in Cambodia and generally shot the shit with us about anything and everything.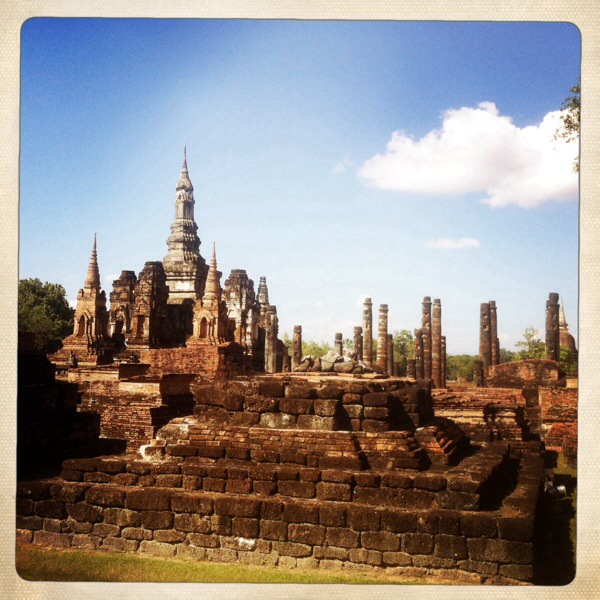 Wat Mahathat – Sukhothai Historical Park
Between the two, I think I preferred Ayutthaya to Sukhothai. Many of the wats in Ayutthaya were walkable as they were dispersed throughout the town itself and walking to them was interesting as we went through long stretches of markets that line the street selling everything from furniture to clothes, hardware to food- we even ran into a small carnival area. Out of chance, the World Heritage Fair was taking place during our time there so we were able to see more than we normally would have in terms of entertainment.
Crowd at the World Heritage Festival
I plan on trying to update the blog on a more regular basis but it's taken some time to get down a decent mobile workflow- the WordPress iOS app that we are using is buggy, counter intuitive and soaks up plenty of unnecessary time by requiring manual changes to coding for things at could be automated, I'll be trying out other apps (and even the web interface directly) in the coming weeks.
In the meantime, I'm also trying to figure out the best way to use social media. Originally, I envisioned running it all through twitter and pushing the tweets out to Facebook as this would allow me to continue to avoid the relative complexity of Facebook while still keeping the majority of friends and family updated but then a substantial amount of my tweets were excuses to post photos that were better placed on Instagram direct as they didn't really provide information about what we were doing.
The main issue is that I need to settle on the purpose of each service- right now I'm leaning toward twitter for updates on when and where, Instagram for a visual representation of what with Facebook for basic communication (hopefully I'll even be able to reduce this down to Messenger alone). I'd like to use both Vine and Bubbli more than I currently am but both of these will be exceptions to the rule as they'll have to run through the twitter feed.
I thought it might be useful to starting keeping track of some basic information about each location we had been for future travelers or our own reference. Below I've listed out our accommodation and useful notes on each area as follows:
Ayutthaya
Accommodation: Moradokthai Guesthouse standard double room at about 300 baht per night (~$10); food and drink on premises although the beer is Chang and you can only get food if you can catch one of the staff to cook it for you; good location near to a 7-Eleven, food carts, markets and the main park.
Transport: Third class train costs 15 baht (~50 cents); trip takes about an hour and a half, seats are a little hard but fine for the length of the ride.
Notes:
Fresh Vegetarian Mushroom Soup in the markets along Pa Thon Road near the park.
Wat Pha Ram was the first wat we saw and our favorite to visit during the stay although Wat Chaiwatthanaram was the most impressive.
If you're adverse to getting scammed a few bucks, watch out if you go to the reclining Buddha- upon arrival one lady will come up and push on you to buy an offering of flowers, incense and candles for 20 baht. If you do this, another woman will come over and show you how to make the offering and then pressure you to buy a few good luck charms in return for a couple hundred baht.
World Heritage Fair is held each December- check the dates on their website and plan accordingly if you can.
Coffee Old City is in a central location across from Wat Mahathat and can supply you with a decent western breakfast, coffee or afternoon beer.
Sukhothai
Accommodation: TR Guesthouse bungalow at 600 baht per night (~$20); room was really nice. Standard rooms looked decent as well, staff spoke alright English and I would recommend them to anyone looking for a decent mid range place- also close to a 7-Eleven and the night markets.
Transport: We took a second class seat on a non-DRC train to Phitsanulok for baht; watch the stops as you get close as they may forget to let you know when you're near the stop. Train was old but functional and seating was fairly padded- slightly more comfortable than a United Airlines flight. Vendors on the train will sell you water, plastic bags of soda, pre-made meals or hot soup. Non-DRC train has a squat toilet with asshose so you may want to hold it unless you have to go. You can read more about Thai train travel at Man in Seat 61.
Once you get to Phitsanulok you can get a tuk tuk driver from the train station to the bus station for 60 baht (~$2) minimum, he'll likely try to get you to let him drive you to Sukhothai for 1,000 baht (~$33) but don't do it- the cost of a bus ride on a decent coach out to New Sukhothai is only 43 baht (~$1.45) and about one hour.
When you get to Sukhothai, there will be more tuk tuk drivers who will take you to whatever guesthouse you are staying at for about 50 baht (~$1.65) only after they have taken you to whatever guesthouse sponsors them. This is colloquially known as the "Sukhothai Tuk Tuk Mafia" whereby each driver is bought off by a different guesthouse, you'll most likely be riding out with another guy who stands on the back bumper with laminated photos of the rooms at the given guesthouse and talks it up to you.
Notes:
Night markets a worth a walk through and get fairly crowded when local Thais get out of work- most people pull up within arms reach of stalls or carts on their motorbikes to get food or groceries so make sure you're not in the way. Good cheap meals can be had at around 30-40 baht.
Pai Sukhothai, Chopper Bar and Poo Restaurant are all along the same stretch of street in New Sukhothai- Pai Sukhothai is slightly more expensive but has a notch better food than Poo Reaturant; Chopper Bar is the only bar catering to westerners in town. In the end, we spent most of our time drinking at the guesthouse as the beers were cheaper and atmosphere better- you can also get beers at the markets.
Chiang Mai
Accommodation: SDT Home standard double fan room for 300 baht (~$10) per night; it's mainly a tour company (Something Different Tours) but they also have a few bunker-like unsealed rooms with open air en suite bathroom and heating unit on the wall for the shower. The door to the bathroom didn't actually close but we were able to rig it to stay closed with a series of elastic bands looped around a light switch on one side and the bathroom door handle on the other. The bed comes with a mosquito net so even if bugs can get in the room easily you are fairly protected- during our stay it was cooler than normal (around 12-14C/55F) so they weren't much of an issue. Location was close to Loi Khro Road, night markets, Pha Tha Gate and the lower southeast quadrant of the old city.
Transportation: Bus from New Sukhothai cost 239 baht (~$8) and takes about five to six hours depending on your driver- ours was cautious when things got tight but floored it on the straight aways and cut his partner's smoke breaks short at stops on the way by starting to drive off without him- we were dead on five hours.
Notes:
The area we went into along Nimmanheiman Road is known as Nimman for short- it's a hipper, less touristy area but priced closer to home.
Cheapest beers we found were at Stick Rice Cafe where a large Leo costs 80 baht (~$2.70)
Chiang Mai is a big city so make a later update on that city alone