Hanoi reminded us of the futuristic dystopian Los Angeles of Blade Runner, but without the robots. The city felt loud and aggressive. Though we knew it would be winter we were unprepared for the constant drizzle and gloom. And being so in love with Luang Prabang only heightened the comedown. We spent most of our time eating, drinking and scurrying between hideouts.
Hanoi by night
Hanoi by day
We landed late on the evening of Feb 8, grabbed a cab and got to our hotel to check in. Welcome to Hanoi! Would we be going to Halong Bay during our stay?, the desk clerk enquired. Probably… Would we like to take a minute to look through a book of brochures? Er, not really, we're pretty tired… Maybe tomorrow? Maybe.
The next morning my aunt's friend Robbie and his wife Thu, who is Vietnamese, picked us up and took us for coffee. Stepping out of the hotel we noticed that the footpaths had been commandeered by shop-owners along with parked motorbikes and scooters. The gutter was where pedestrians walked and it was clear from the drivers' countenances that it was where they felt we belonged.

What footpath?
Traffic conditions in Hanoi can be summed up by a slogan we saw on a t-shirt: 'Green: I can go. Orange: I can go. Red: I still can go.' Pedestrian crossings and street lights have been installed in many places, but the drivers pay them no mind as they speed onward to their destination. Instead of road rules, Hanoians use their horns whenever one driver wants to pass another – which is constantly. Each driver seems responsible only for what is in front of them with minimal regard for what is going on behind or on either side. This applies to valets backing bikes off the sidewalk and into you as you walk through the gutter or drivers pulling out into traffic without looking. To add, the driving appeared to lack the flow of Thailand as not everyone went the same speed or exhibited the same patience but instead gunned past or weaved around one another.
This sign didn't seem to be working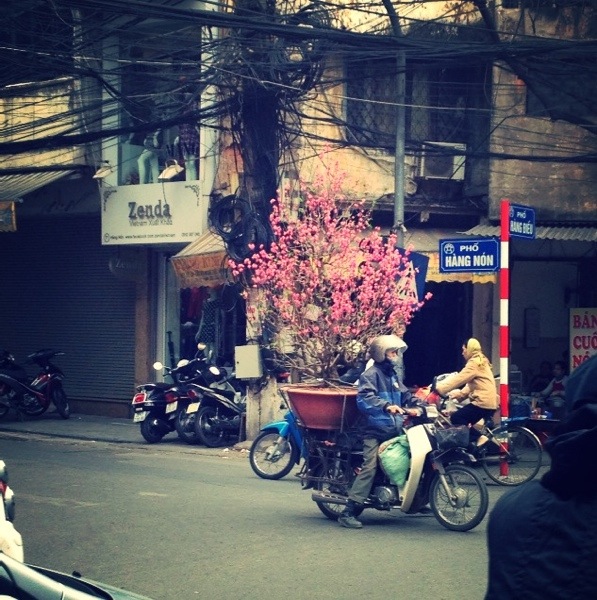 Transporting a festive peach blossom across town
Crossing the road requires a leap of faith. At the sign of a small break in traffic you have to step out and progress at a perfectly even pace so the drivers can weave around you. Robbie guided us across the road like little children. Over coffee he and Thu gave us some tips and ideas for places to visit. Thu is a travel agent so was a great help as our itinerary had no more detail than 'Get to Hanoi. Head south.' Robbie taught us key Vietnamese phrases like 'Cảm ơn' (thank you) and 'Tôi không phải là gà!' ('I am not a chicken!', to be said with hands on hips and a head waggle when quoted an inflated westerner price). Learning any Vietnamese is proving very difficult as it's a tonal language – all words are one or two syllables and your inflection changes the meaning of the word. There are six different tones or accents so each word could have up to six meanings depending on how you say it and what the context is. Say 'gà' (chicken) slightly wrong and you could be saying 'railway station' or any number of other things that make it almost impossible for the listener to work out what you're trying to communicate.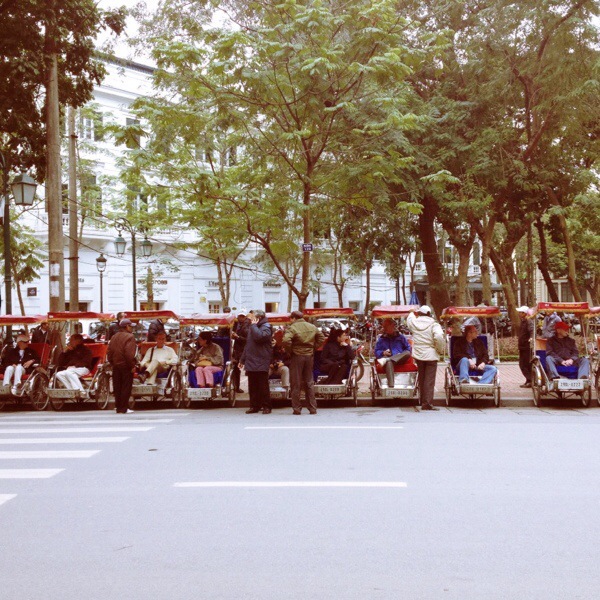 Cyclo drivers and passengers
After coffee Brendon and I grabbed lunch at Phơ 24 and walked around Hoan Kiem Lake (no sign of the famous turtle). Cyclo drivers circled, shouting 'HELLO!'. We headed back to our hotel till it was time to go to Robbie and Thu's for dinner.
Thu cooked a huge meal for us and two French friends, Geoff and Natalie, who live in a village 20km away. They asked about our initial impressions of Hanoi. Chaos! we responded. It's so intense compared to anywhere else we've been. They nodded. 'Here, everything is forbidden but everything is possible,' Geoff explained. Robbie noted that the concept of precautions (like safe driving and helmets) didn't really fit with the Vietnamese way of looking at things – most people don't understand why you would waste time worrying about something that hasn't happened.
The next day we were on our own. On our way out of the hotel a different desk clerk asked how we were liking Hanoi. We tried to think of something nice to say. Yes, he cooed. And would we be going to Halong Bay during our visit? Not sure yet, we replied, and exited hastily. We had identified a cafe round the corner where we wanted to go for breakfast but getting there involved dodging not only speeding motorbikes but also ladies selling doughnuts, guys selling knockoff Zippos, women selling fruit and, worst of all, the sneaker shine guy. He could, I believe, sense our fear and, before I knew it, one of my All Stars had been wrested from my foot and he was applying super glue to the sides, scrubbing it with a soapy toothbrush and reheeling it with half a tyre. And where are you from? he chatted away happily. Can I please have my shoe back? I replied. But I'm fixing it for you, see? I have put some tyre here. And how much will that cost? I asked. 150,000 dong, he replied (about $7.50). For both? No, each. I yanked the shoe back and we handed over the cash. This chicken is now walking around with one 'fixed' sneaker and one normal one.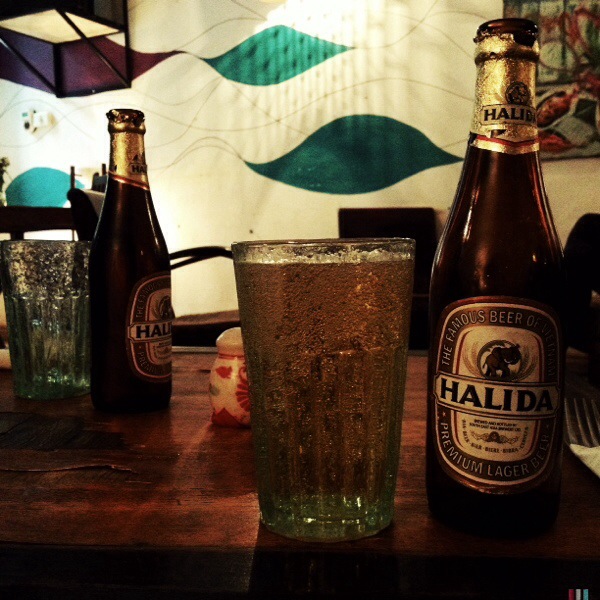 We arrived at the Hanoi Social Club, a cafe/bar run by a guy from Melbourne, and ended up staying all day. We tried egg coffee (cà phê trứng), which was delicious, like a combination of coffee and eggnog. I can't explain how excited I was to have a plate of lentil bolognaise after months in Asia. And of course we had a few Halidas! The cab driver who took us back to the hotel was awesome and taught us how to say 'Oh my God!!' ('Oi troi oi!', pronounced 'Oi zoi oi' in the north and 'Oi joy oi' down south), which Brendo has been using on a daily basis, much to everyone's amusement.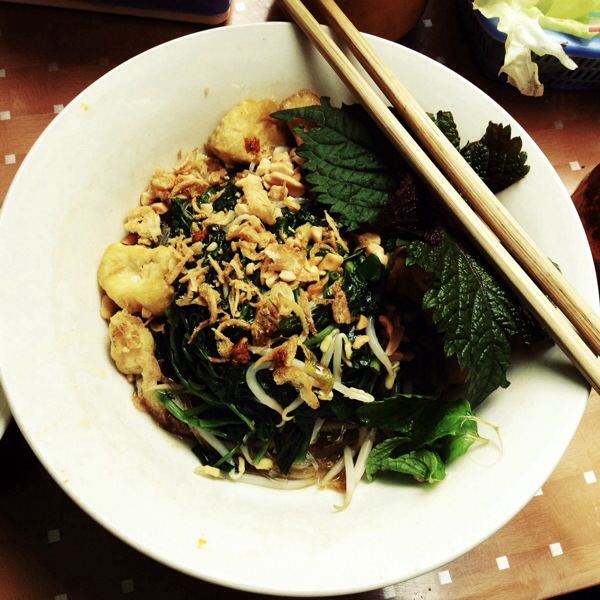 Mixed vermicelli, no meat (miến trộn không thịt)
On day three we toughened up and sought out some local street food. The first place we went is still my favourite. It was a small shop at 15 Ngõ Tràng Tiến, an alley in the French Quarter that fills with stalls from the morning till about 2pm. We ordered by showing the guy at the stall the words I'd typed into my phone, and received two huge bowls of miến trộn không thịt – vermicelli noodles with tofu, morning glory, lettuce leaves, shallots, herbs, bean sprouts, peanuts, fried garlic and a sauce involving fish sauce, sugar and chili. Usually this dish would also have beef but 'không thịt' means 'no meat' – asking for dishes this way is the only practical way to get vegetarian-friendly street food in Hanoi. It was 20,000 dong (~$1) per bowl and absolutely outstanding.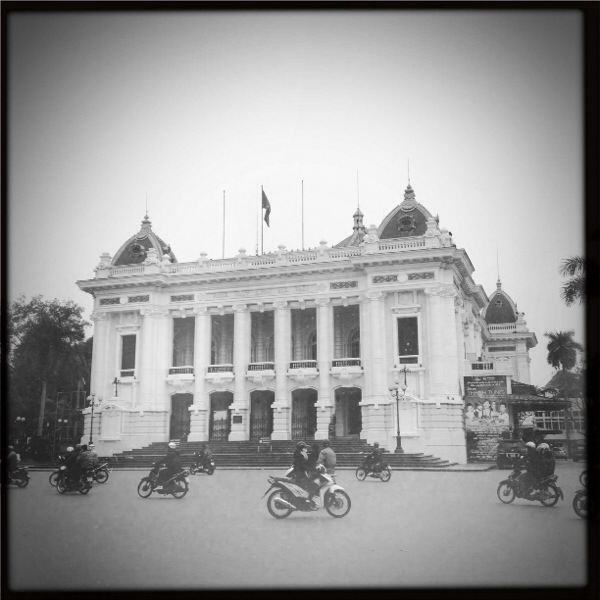 After lunch we roamed around the French Quarter, which is the ritzy end of town where you'll find luxury shopping malls, European restaurants and an Opera House built by the French in the early 1900s. Even in nice areas like this it was always easy to find cheap food and drink – we stopped down the road for Vietnamese coffees at Argento that were still only 22,000 dong each.
In the afternoon Brendon went to get fitted for a suit for his friend Bilal's upcoming wedding. The tailors laughed as they reached up to measure the tall American. The suit took about 4 days all up, and we were sort of stuck in Hanoi till it was complete, but the end product was definitely worth it.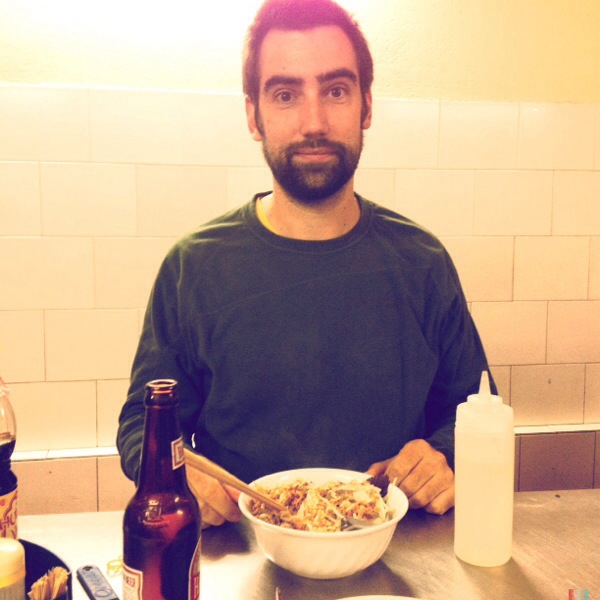 Strung out and ready for bún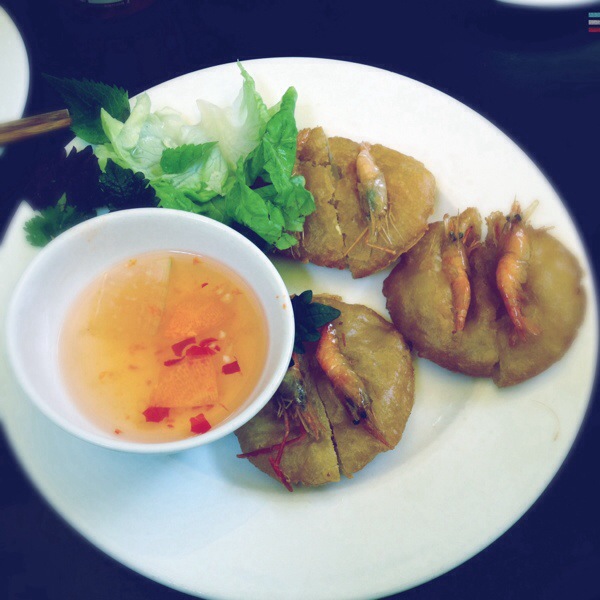 Shrimp pancakes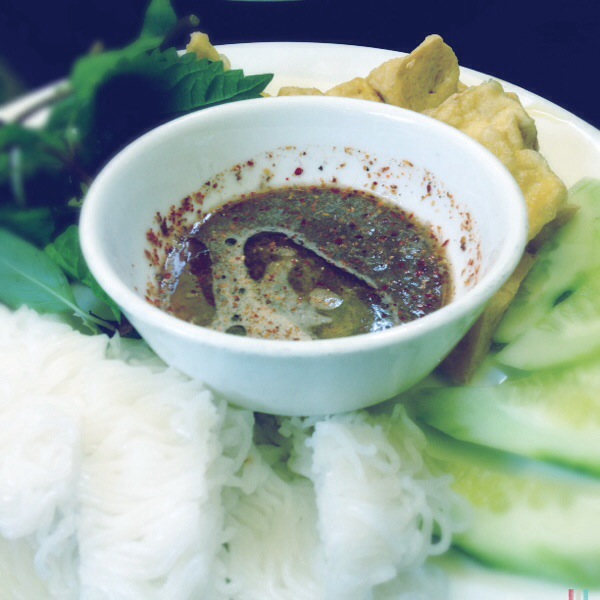 Perhaps this sauce is an acquired taste…
Food highlights in Hanoi included bún bò nam bộ – beef, vermicelli, garlic, ginger, peanuts, herbs, lettuce and fish sauce, 55,000 dong (~$2.75) a bowl – from a well-known place at 67 Hàng Điếu, and a visit to Quán ăn Ngon, which is an outdoor food court with a huge menu of regional specialties. I got crispy shrimp pancakes and noodles with fried tofu in shrimp paste sauce – the dipping sauce smelt like the devil's bungholio. Eventually a kind waiter took pity on me and brought me an alternative sauce to try! Brendon got fresh spring rolls with pork and prawn and a wild duck phơ. We weren't blown away considering the cheaper and more flavourful street food we had already tried, but they have a huge range of dishes so maybe we just didn't choose the right stuff. It ended up being 232,000 dong (~$11.50) for two entrees, two mains and two cokes.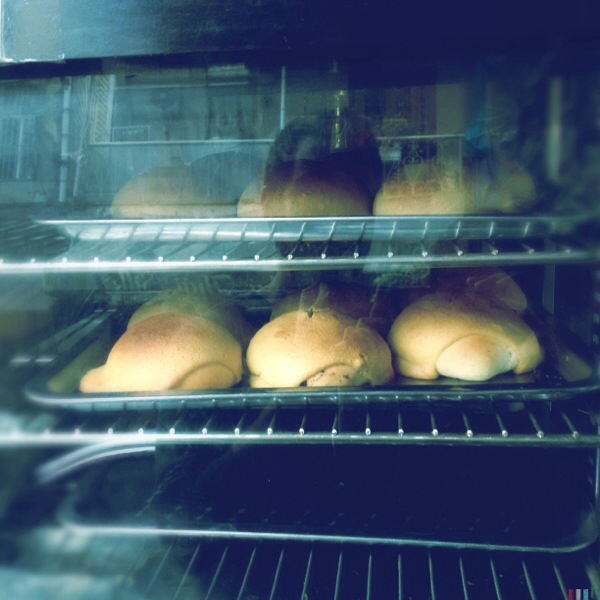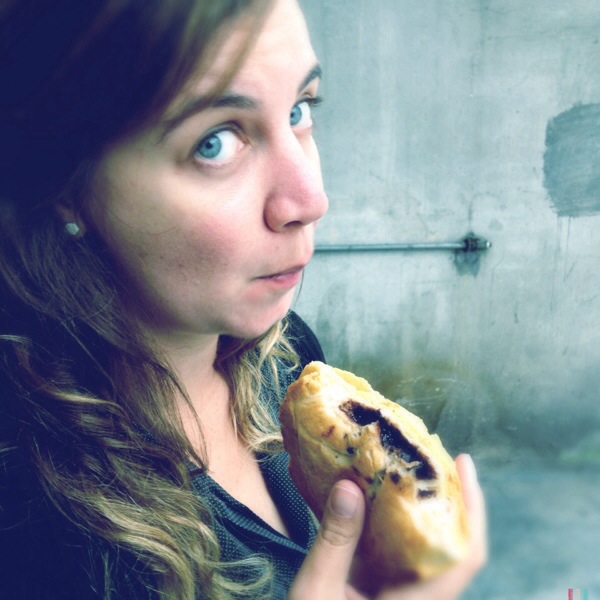 The best thing we tried, though, was the Mexican coffee buns from Anh Tú Bakery. (As far as we know these are not actually Mexican.) These huge, warm, doughy, sweet, crispy buns filled with runny chocolate became an integral part of our morning routine.
Atrium at Cafe Phỏ Cổ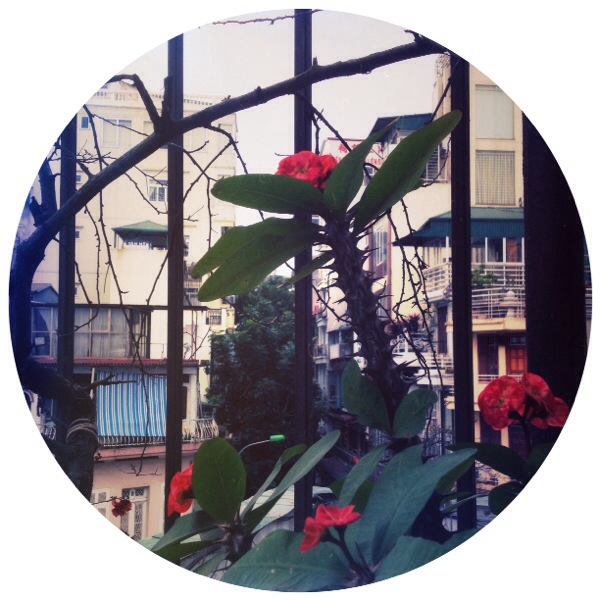 Cashing out
These were generally chased with an intense Vietnamese coffee from Cafe Phỏ Cổ, which is like stepping into another world (or about three due to the number of terraces). You enter by walking between a t-shirt shop and a silk shop, then you come out into a big atrium. You order from the girl, head up one flight of stairs past the family altar, then up a spiral staircase to the verandah that looks out over the city and Hoan Kiem Lake.
Many combinations of chicken and noodles on offer
Brendon took a liking to our local chicken shack which served sliced chicken over sticky rice, chicken pho, chicken spring rolls and chicken miến trộn. All of these came with a dish of tasty pickled cucumbers.
Bùn chả with pork patties and crab spring rolls from 67 Đường Thành Street
He went off on a solo mission to investigate a lead on crab spring rolls and pork bùn. He also made repeat visits to one food vendor on Lý Quốc Sư that sold a variety of deep-fried nibbles, including a vegetarian dumpling that, while containing no meat, also contained no vegetables and was really just a ball of fried dough.
Detail from Thái Nguyên iron and steel complex (1962) by Búi Trang Chước
Detail from Uncle Ho on a military campaign (1985) by Nguyễn Nghĩa Duyện
We didn't visit many of Hanoi's cultural venues (unless coffee shops count) but we did go to the Fine Art Museum. There was some interesting art with the coolest being the lacquer engravings.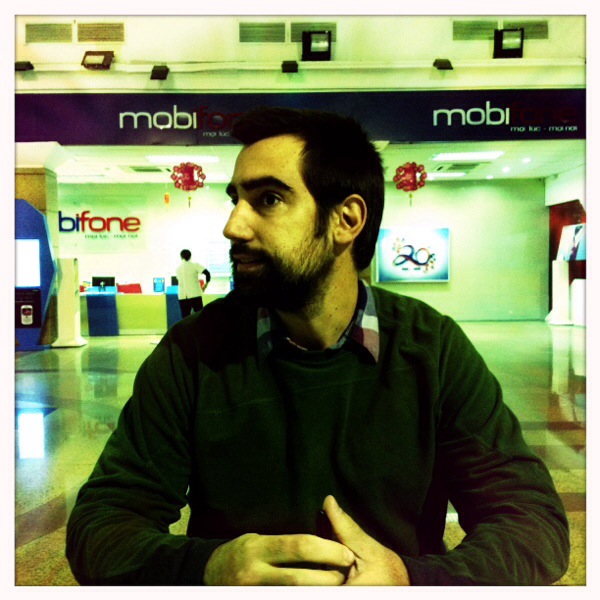 Once Brendon's suit was finished we headed out to the post office to send it home. We stopped at the place with a big neon sign that read 'Post Office' out the front of it. It looked pretty small – one desk and a rack of postcards. 'This must be it,' I said trustingly. Brendon looked skeptical. 'Is this the post office?' he asked the woman inside. She looked at the big bag of stuff we wanted to post and then said, 'Next building!'. Calling your knockoff business the name of the other, more popular business next door seems to be pretty standard practice here.
Bygone days before motorbikes
With the suit finished and mailed off we were keen to get out of Hanoi. We wanted to go to a farmstay in Dong Hoi next, but they were booked up so we ended up sticking around town a few more days. When the staff at our hotel realised we wouldn't be booking a Halong Bay tour with them they moved on to something different. As we came downstairs one morning the boss lady and one of the regular clerks asked how we were enjoying our stay. We nodded and said it was good. Boss Lady opened a drawer under the desk and pulled out an envelope. Would we write a positive review for the hotel on Trip Advisor? she asked, waving the envelope. Sure, we said. She smiled and handed the envelope to Brendon. It contained an ingratiating handwritten card wishing Mr Kearns a happy and prosperous new year. We headed out for the day. When we returned drunk hours later the desk clerk stopped us on our way up to our room. Have you written the review? he asked. We explained we'd do it later. You can use the computer right here! he exclaimed. You can do it now! We made our excuses and went up to bed. The following morning on our way out he asked again about the review. Then again when came home. Then again the next morning. And again when we got home. We flip-flopped between feeling annoyed and feeling bad – they were obviously doing what they thought was necessary to run a good business but they came off as so transparently insincere. And we still haven't written the bloody review!
On our last day in Hanoi we went down to the train station to book our tickets to Dong Hoi (with a little help from The Man in Seat 61). We took a number and waited to be called to the ticketing window. The system was like what you'd see at an RTA or DMV office – press 1 for ticket purchase; press 2 for refund or exchange, etc. Hanoians, however, had their own systems, which involved either crowding around the ticket windows and talking over the person currently being served, or taking one ticket from each category and seeing which came up first. But, with a little time and patience, we successfully booked two bunks on the sleeper train outta town.
I don't mean to sound like there was nothing enjoyable about Hanoi. If you have a strong constitution, you love shopping and bargaining, you visit at a different time of year and you stay no more than a week it could be a pretty fun place. But it just wasn't for us.
Tạm biệt Hanoi! I don't think we'll see each other again soon.