As soon as we got off our tuk tuk from the pier we could tell Luang Prabang was different to other places in Southeast Asia. The motorbikes cruised by slowly. The street markets contained beautiful well-made things you might actually consider buying. The sellers were doing their job, but in a gentle, good-natured way. We had planned to stay in Luang Prabang for about a week but ended up staying over a month.
The town is built around a number of impressive temples (wats), which are tended by a large number of Buddhist monks and novices. Monks are part of everyday life there and you see them everywhere – walking down the street on their way to school, crossing the bamboo bridges across the Rivers, at the pharmacy visiting a family member, at the local English literacy centre. The monkhood is a way for boys from poor families to get an education and many of the young guys we spoke to in Luang Prabang were ex-monks.
Each wat has its own large hanging drum, which is used to wake the monks each morning at 4am and often is struck again at 4pm for about 15 or 20 minutes. Locals get up early and walk down to the main street to give alms (food they have prepared at home) to the monks – the food they collect here is taken back, divided up, and will be the monks' only food for the day.
Because Buddhism plays such a central role in life in Luang Prabang, modesty and respect are also very important. We noticed that Lao people always dressed well – the men wore collared shirts and long pants; the women wore long skirts with traditional embroidery at the hem. We found the modesty factor to be a welcome change from Thailand and started to enjoy covering up as it made it easy to pop in and out of temples whenever we saw one that looked interesting.
Monks about town
Signage at the ATMs is often ignored by westerners going for a morning jog
Even the street crossing signs showed a nice well-dressed lady
Lao dudes looking sharp
As nice as the city was, it still had a strong tourist presence, especially on the main drag through the old city which is lined with places that either crank out crap food at slightly inflated prices or offer more high end options priced closer to what you might pay at home.
We found that Luang Prabang drew in a fairly diverse crowd of tourists – it wasn't unusual to see a geriatric daredevil wading out on a bicycle into the mass of motor scooters or to overhear a group of backpackers piecing together the night prior where one of them got bitten on the hand after tackling a purse snatcher in an alley at some hour of the morning beyond the town's general curfew. It can even become visually surreal at times, like when we saw a girl in a bikini lay out her towel on the muddy bank of the Nam Khan next to a weathered old Lao man fixing a boat by hand.
Luang Prabang's main drag
Local breakfast place after the morning rush
Wat Sop Sickharam
Lady on motor scooter
At dinner time the alley beside The Ancient Luang Prabang Hotel fills with food vendors selling anything from Mekong weed, dumplings and noodles to grilled fish and rodents. There are a couple of big vege buffets where you can load your plate for 10,000 kip (~$1.30) – it won't be the most amazing meal you've ever had (we worked out that one item was deep-fried battered white bread) but it's the most bang you'll get for your buck. You can also grab a cheap beer and chat with other tourists at the tables, but don't even think about hanging around once your plate is empty or you'll be shooed away by the stall owners.
Dig in you fat falang
The food culture in Luang Prabang is heavily French influenced, so there are excellent breads, cakes and pate as well as noodle soups, curries, stews and grilled meats.
First bagel egg and cheese in two months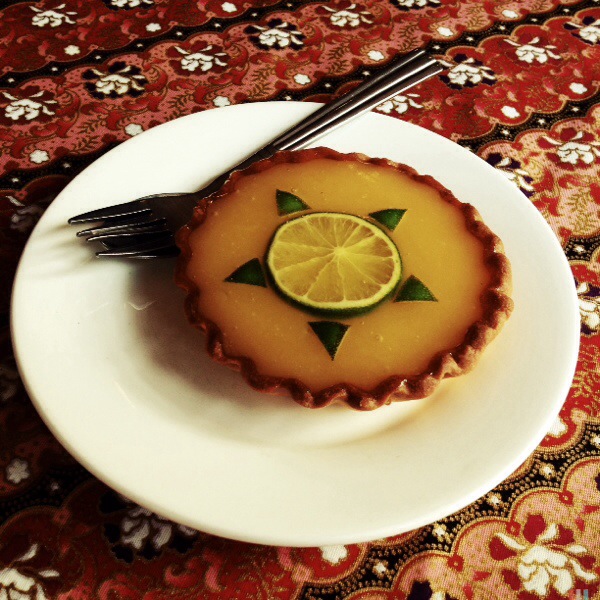 Citron tart from La Banetton
In the centre of town is Phousi Hill (referred to as 'Mount Pousi' by the locals, which elicited a few snickers). The hill can be climbed via one of two long staircases. Two-thirds of the way up is a series of shrines and a small cave containing one of the Buddha's footprints. In this area you can meet some of the young monks, who like to chill out here and practice their English with the tourists. We were really impressed by how good the monks' English was – we spent quite a while talking to a 17-year-old called Jasmine who had fairly extensive knowledge of U.S. geography and made fun of us for not being married. If you climb all the way to the top you get a beautiful panoramic view of the town. On the way down is a big Bodhi tree in the middle of a quiet garden.
Novice monks at the Buddha's footprint
Path up Phousi Hill
View from the top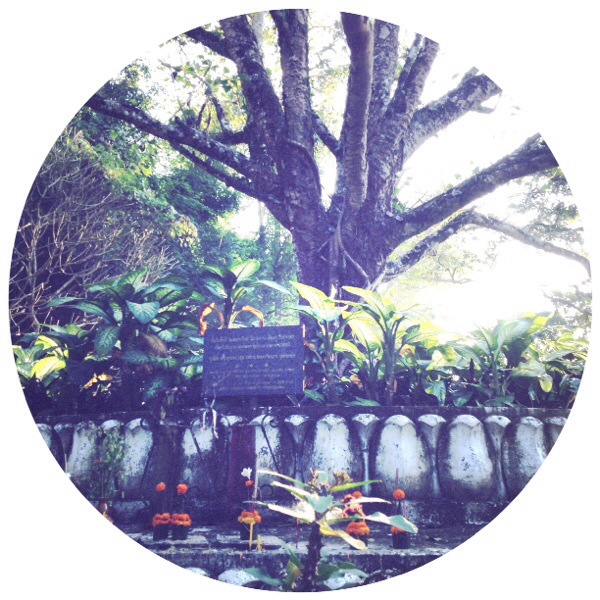 Bodhi tree
We spent a lot of time playing rummy outside an Internet cafe that served cheap beers on the main drag. Afterwards we would go a few doors over to sit at Opera Bar as their wine was relatively cheap and it was a good central spot for people-watching. Apart from the joy of listening to the one CD of covers they played on repeat (Fields of Gold, anyone?), I loved looking out over the street and watching the antics of Mr Tok Tok, the angriest pug on earth. He lives in the travel agency and, when the mood takes him, likes to attack the legs of customers and staff. He went through a number of different outfits during our stay – from a regal red Chinese number to some pink and white Minnie Mouse pajamas.
Tourist central
Hating life
After a stint at Opera Bar we often ended up across the road at the Indian restaurant. It gets pretty busy in there and sometimes we needed to share a table. Sometimes this was fun, like when we were seated with a wasted New Zealand-American who jokingly called everyone 'brew' and told us stories about his time working as a labourer in Shitsville, Western Australia. Sometimes it was just bizarre, like the time we sat with an old Muslim Chinese man whose ancestors came from Tatarstan. He couldn't speak a word of English, but this didn't stop his vigorous attempts to communicate with Brendon about religion, food, his role as a torchbearer in the Beijing Olympics, and the fact that I should have my hair covered up. He communicated with the restaurant owners in sign language, made fun of them for being Hindus (despite them being Muslim), spat on their floor and then gave Brendon a big kiss on the head when he left.
The other main thing to do in town is visit the wats. The biggest and most impressive wat in town is Wat Xienthong, which is lavishly decorated with stencils, mosaics and wooden relief carvings.
Stencilling at Wat Xiengthong
Mosaic mural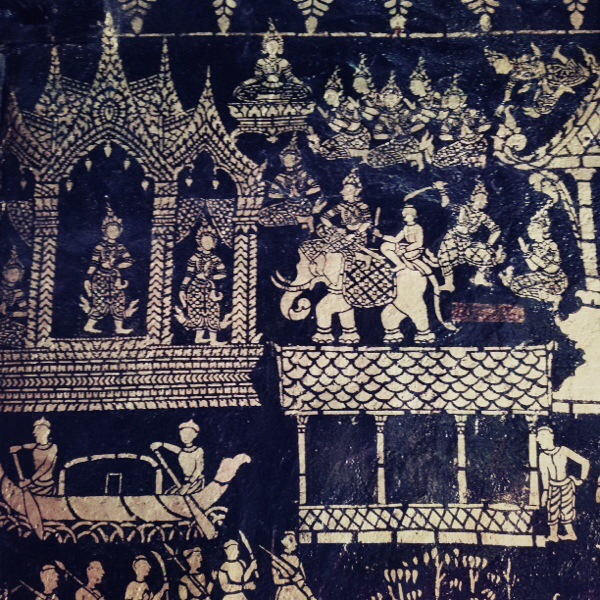 Luang Prabang is flanked by two rivers, the Khan and the Mekong. During the dry season local villagers build bamboo bridges between the banks to enable easy crossing. In the rainy season you have to use a boat to get across.
Bamboo bridge from the point across the Nam Khan
We wanted to see where the locals did their shopping so we grabbed a tuk tuk out to Phosy Market, about 10 minutes out of town. Here you can buy everything – meat, clothing, snacks, homewares, shoes, beauty products, fabric – except underwear that fit a western man.
Food in Laos is more expensive than elsewhere in Southeast Asia because most of it has to be imported from Thailand and Vietnam. But you can find cheap breakfast at the stalls along Sisavangvong which serve crepes, baguettes, fruit shakes and Lao coffee. The coffee is super-strong, dark and potent, with condensed milk in the bottom to sweeten it and it goes for as little as 5000 kip a cup (~65 cents). Our favourite breakfast here was a vege version of the Lao style baguette – tofu slices, cucumber, hard-boiled egg, onion and sweet chilli sauce for 10,000 kip. The meat version includes sliced chicken and pork floss and costs the same.
Lao style sandwich
Lao coffee
At first we found Lao food a bit bland after coming from Thailand. But over time we found lots of cool local dishes. Luang Prabang is very foreigner-friendly so it was also quite easy to find vegetarian food. You can even find vegetarian versions of some of the more popular Lao dishes like orlahm (buffalo stew). But Lao people don't really understand why you'd bother. In Laos vegetarianism is associated with the Buddhist monks, who are all vegan. Being vego for non-religious reasons probably seems like another falang eccentricity.
Some of the best Lao food we had was from Dyen Sabai, an outdoor restaurant that you get to by crossing the second bamboo bridge across the Nam Khan.
View front the bridge
Jungle laundry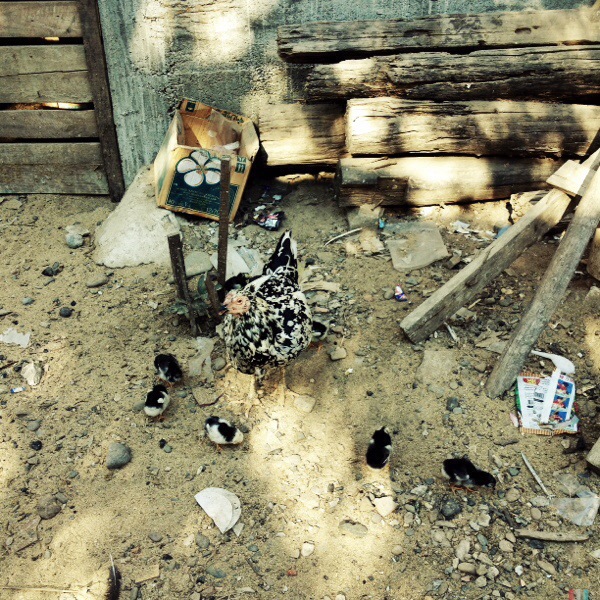 Animals in the road by the restaurant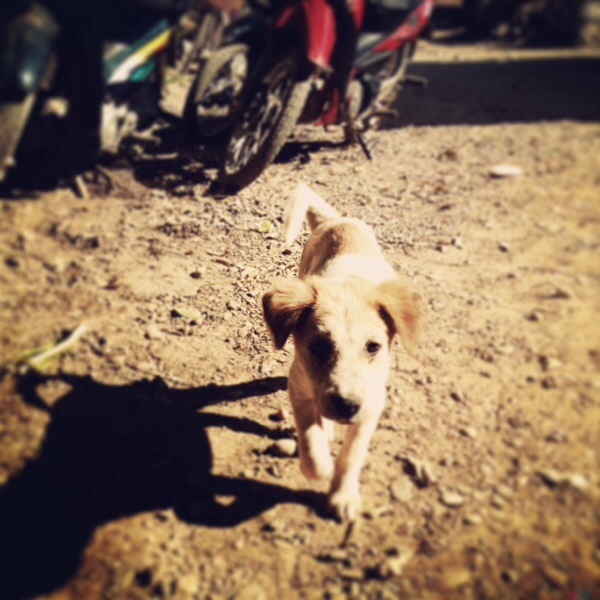 When we ordered the tofu fondue the guy who served us asked if I was vego. I said yes, and he said, 'No one from my village is vegetarian. They eat any animal – chicken, cow, rat, dog – they will kill it and cook it. Some even eat cat. I don't ever want to eat cat.'
The tofu fondue was one of my favourite Lao dishes – they set up a stone pot of hot coals with a grill/pan on top at your table. You get a teapot of coconut broth, deep-fried battered eggplant, a basket of veges, noodles, herbs and eggs and a plate of tofu to grill. By the end you will be sweating like a bastard but it's totally worth it, and for 70,000 kip (~ 9 bucks) it feeds two people. Brendon loved the orlahm (water buffalo stew) which contained a spicy bark native to the region. Lao Lao Garden offered a tofu version but it didn't really compare in flavor.
Basket of veggies ready to cook
Orlahm soup at Dyen Sabai
A favourite Lao snack was meow mak keua – sort of like the Lao version of baba ghanoush, made with roasted eggplant and dill, which you eat with balls of sticky rice. Brendon liked L'etranger's version best since it was a bit spicier than anywhere else we tried.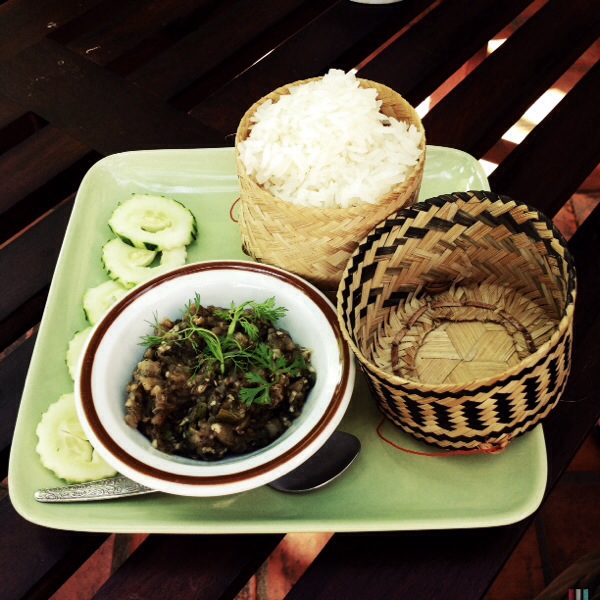 Jeow mak keua at L'etranger
Larp is another Lao food we loved. Lao larp is something like Thai laab/larb, but in LP you can get it with chicken, fish, pork or tofu. The ground meat or cubed tofu is marinated in lime and fish sauce, fried and mixed with lemongrass and herbs. The best larp we found was the tofu larp at a small place called Cafe Toui. They also have a few banquet options, and their 80,000 kip (~$10 ) vege banquet includes fresh spring rolls, coconut curry, eggplant and mushroom steamed in a banana leaf (a veg version of Mok Pa, fish steamed in banana leaf) and the excellent tofu larp.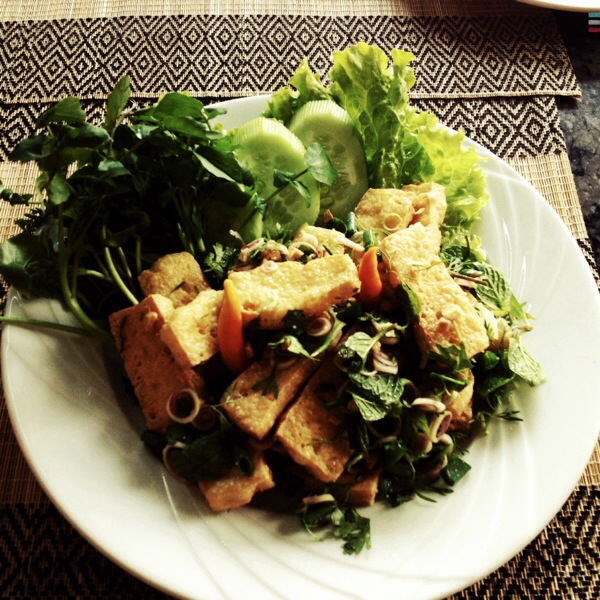 Tofu larp from Cafe Toui
Luang Prabang sausage is a regional pork sausage variety that includes rice, lime, garlic, pepper, salt and lemongrass. It appears everywhere from on your breakfast bagel at Pilgrim Cafe to the Luang Prabang pizza at Biblio Bar, as well as on tasting platters at all the good restaurants. During the day you can see it drying on racks in the street.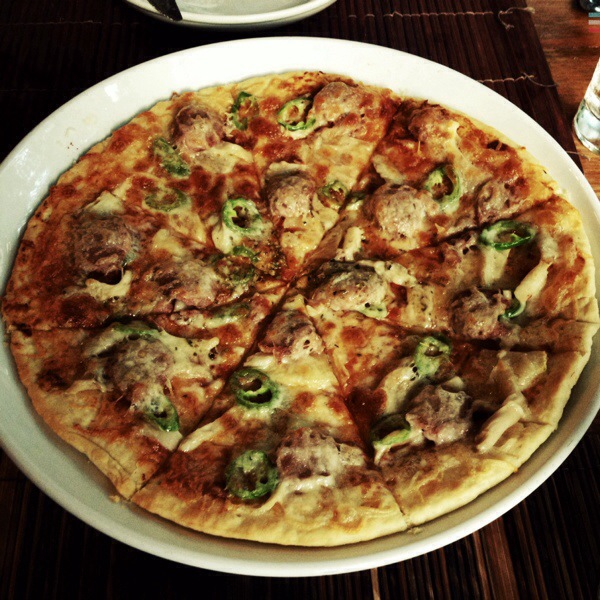 Luang Prabang sausage pizza with pineapple and peppers
We had read about an interesting hike across the Mekong river in the Chomphet District. After a late start we headed straight out to Wat Chomphet and from there cruised through the series of wats and shrines, climbed up inside a cave to make an offering, managed to get lost a few times in the jungle, dodged a few mean dogs, met some village kids and then walked it all over again when we realized that there isn't necessarily a boat at the end at takes you back.
Wat Chomphet
Vat Nong Sakeo
Shrines up the hill behind Vat Had Siaw
The wat we liked the most was in the town centre at the bottom of Phousi Hill. It's not listed on the Hobo map of Luang Prabang that we relied on, and is falling into disrepair. Wat Pa Huak or "Monastery of the Bamboo Forest" was built in 1861 and its interior is covered in delicate murals.
Detail from mural inside Wat Pa Huak
When it became clear that we really didn't want to leave Luang Prabang we decided to go to the immigration office to extend our visas – this only costs $2 per extra day. The immigration office is in the less touristy part of town and, as seems to be the custom in Laos, closes between 11:30 and 1:30 so its employees can have lunch. We arrived at the 'Foreigner processing office' just after 12, so spent a bit of time checking the area out.
Watermelon stupa at Wat Visoun
Laotian art gallery
We had a cheap lunch at Atsalin restaurant, where 40,000 kip (~$5) got lunch and drinks for two. We tried the vege sukiyaki soup and the veges with macaroni, which was surprisingly good. In Laos pasta is on a lot of the menus and is just treated like another type of stir fry noodle – which it is, I guess.
Macaroni stir fry at Atsalin
Less touristy end of town
Our accommodation was a mixed bag. Our first place – Nittaya Guesthouse @ 130,000 kip (~$16) – was nice but we knew we could find cheaper. Next we found a place that offered rooms for 80,000 kip (~$10) per night. The only drawbacks were: it was next door to a workaholic silversmith; at night strange vomiting sounds could be heard coming from the family who lived in the front half of the house; one of the girls appeared one morning with a mysterious black eye; I found blood drops outside our door; we had to walk through the family's living room to get to our room; our room was never cleaned in the week we stayed there. I got a 5-day bout of food poisoning (probably from eating at the attached restaurant) and threw a tantrum, and we moved to the lovely Nam Sok 3 Guesthouse on Xotikhoumman Rd for the rest of our time in LP. This place is run by three women who know what they're doing and also costs only 80,000 kip a night. Highly recommended.
Ten dollar a night room at Nam Sok 3 Guest House
There were a couple of short blackouts in Luang Prabang while we were there. I had to override Brendon's American impulse to deadbolt the door and stay inside in case of looters. Instead we sat on the verandah with a Beerlao and one of the women who ran the guesthouse brought us some candles.
Romance
During the last week of our stay our friend Lisa took us to the Xiengthong Noodle Soup shop, up the end of Sakkaline across from Wat Xiengthong. This place has been there for over ten years and one woman makes all of the food. Lao people tend to go there for breakfast so she opens early and closes when the soup runs out, at about 2pm. The soup contains fat rice noodles, bok choy, chopped green onions and fried garlic. You can get it with pork and/or a poached egg. Then you add your own bean sprouts, lime, chili flakes, soy or fish sauce and ginger. Apparently it's especially good if you get it with homemade rice crackers, but they had sold out both days due to a high volume of weddings in town after the Lunar New Year. The soup is made with pork stock but being a strict vegetarian out here is a losing game. It was so great we had to go back again the following day.
Xiengthong Noodle Soup
Afterwards we adjourned to Halolao, the cafe next door, for a coffee and then a whiskey and coke. The guy who works there doesn't speak English terribly well and when he can't understand you he whispers, 'What?' as though you have said something offensive. In response to Lisa's request for three whiskey and cokes he brought out three wine glasses full of whiskey and one can of coke. Lisa said in Lao that the glasses were too big – he took them inside and decanted the whiskey into highball glasses instead. Only one round was necessary!
Playing Bananagrams with Lisa at Halolao
On the 7th of February we left Luang Prabang and took a minibus to Vientiane so we could fly to Hanoi. The 11-hour trip took us through winding mountain ranges and dry dusty highways. When we were driving to Pai in Thailand we had thought it funny when the driver stopped to pick up eggplants from a roadside stall; on the way to Vientiane the driver took things to another level when he pulled over and bought a large rodent from a woman in one of the mountain villages. The poor animal spent the rest of the journey in a sack at the feet of two Lao women who were riding shotgun, unphased.
View of the scenery on the bus ride from Luang Prabang to Vientiane
A large bamboo rat for dinner