Posted by Katie
News of the political protests in Bangkok in the days before our departure from the US had us feeling pretty nervous about this leg of the trip, but reassuring advice from a few locals via my indispensable friend Ilse put us a little more at ease. After an epic flight out of JFK we arrived in Bangkok early on Sunday morning. In the course of our research we had read numerous horror stories about Bangkok taxi drivers taking jet-lagged tourists on circuitous routes through the city, pretending not to understand hotel addresses while racking up the meter. Expecting the worst, instead we found an efficient system where you give your hotel address to a translator who explains it in Thai to the driver, hands you a receipt with the driver's details and a number to call if you have a complaint, and sends you on your way. Our driver dropped us at our hotel in Phrom Phong and we staggered inside to check in. The girl at the front desk said she had no record of our booking. After five minutes of confusion she worked out what the problem was – we had booked to arrive on Saturday the 7th, but it was actually Sunday the 8th. She giggled at us as we tried to make the necessary mental adjustments. Then she checked us into our room.
The area we're staying in is a little out of the city along Sukhumvit Rd – apparently a lot of ex-pats live around here. It's perfect for us as it's a little more chilled than the other popular tourist spots. There are street food vendors in the alley out the front and a few Japanese restaurants and bars in the alley to the side. The BTS station is right round the corner so it's really easy to get around but also quiet to come home to.
Due to the protests we've mostly stayed out of the city but we've still found plenty to explore. Banjasiri Park is right near our hotel and is full of cool sculptures, Thais doing tai chi, kids playing and turtles and catfish chilling in the pond.
We've enjoyed checking out all the sois (alleyways) along Sukhumvit Rd. The sois are numbered – as the numbers increase you move further away from the city. Sukhumvit Soi 51 in Thong Lor is awesome, with plenty of street food, a delicious vegetarian Thai restaurant called May Veggie Home and great coffee at Full Stop cafe. Sois 4 and 11 in Nana were seedy as hell though – at 11am they were full of greying beer-bellied western men and their accompanying Thai prostitutes. The streets were lined with bad English sports bars and brothels. The inventively named 'Dr BJ's' was a highlight.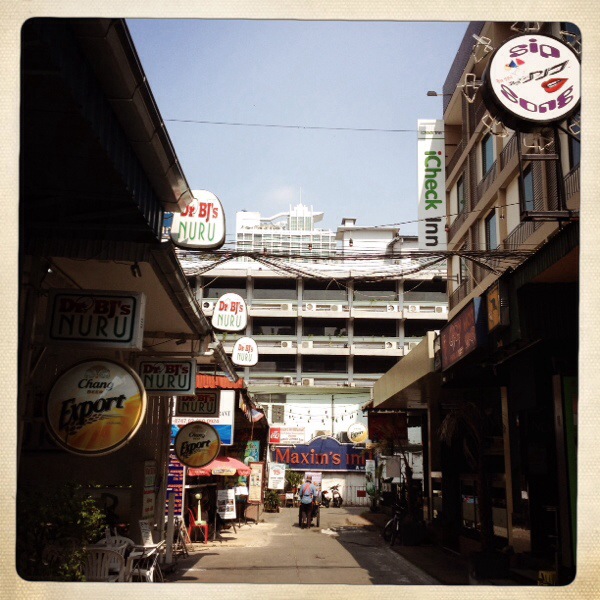 Sukhumvit Soi 31 in Wattana has the best Thai restaurant we've been to so far – Baan E-Saan Muang Yos. We were the only whiteys in there so we had high hopes. We had a delicious herb-stuffed grilled salted fish, seafood hot pot and a large Leo beer, all for 480 baht. So good!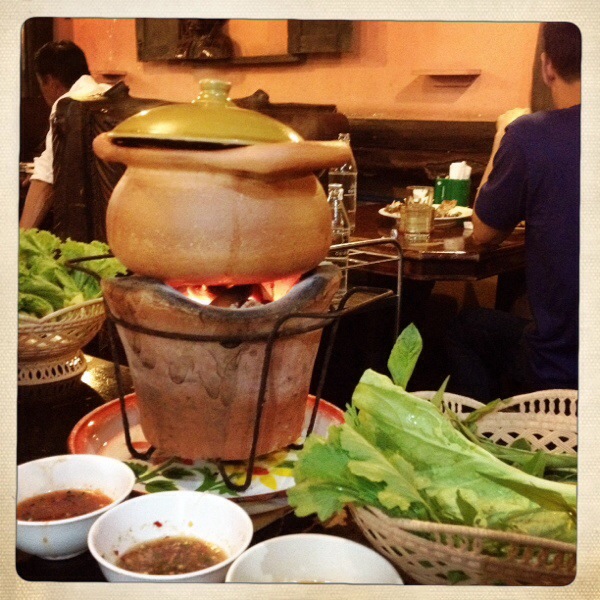 Siam Square was also very cool – mostly a shopping and eating district that I guess is something like Surry Hills in Sydney. We checked out the sculptures and the Xmas display at Central World, tried our first som tam (green papaya salad) and then looked around for somewhere to grab a beer, to no avail. I'll admit we ended up sitting in an Outback Steakhouse… at least it had a good view to go with the 'Australian' delicacies and fake didgeridoos.
The snowmen in jars seemed a little creepy.
We finished the day at the Imchan food cart on Sukhumvit Rd, where you can watch the world go by while you eat a 40 baht pad thai.
On Wednesday night we caught up with Brendon's friend Wade, who happened to be in Bangkok too. Wade and his friend Kathryn were staying at Lebua Tower in Silom, as seen in The Hangover II. It was a pretty impressive contrast to our digs – there was a dedicated staff member on each level to press the lift button for guests. Their room was huge and you could see all across Bangkok from their balcony. We had a couple of Changs, then Wade asked the concierge for a bar recommendation – he directed us to Maggie Choo in the basement of the Novotel. We walked in, pulled back a curtain and found a darkened room with a Thai girl on a swings and more crawling around in a curtained cage on top of the bar. Hmm. A waitress wearing what looked like a military uniform came over to take our order. We each grabbed a cocktail and then left to find somewhere a little more normal. Down the road we found a bar that played hilarious Thai cover versions of songs like Piano Man and Nine to Five and a good night was had by all.
Bangkok has really exceeded our expectations. It's a beautiful modern international city with loads of character. There is so much contrast here – on one corner you'll find huge shopping complexes that facilitate the most obnoxiously conspicuous consumption, then down the alley are brothels and ping pong shows and 10 baht street food. Everyone we've met has been incredibly helpful and polite. The language isn't exactly coming easily to us (apparently Brendon is supposed to say 'krap' at the end of every sentence to make it more polite?!) but we'll keep working on it.
Today we're catching the train up to Ayutthaya for a few nights before heading further north for Xmas and New Years. Hopefully we'll make it back to Bangkok at the end of our trip when things have calmed down – there's so much more to check out here!