We took the next stretch of the Reunification Express from Đồng Hới to Đà Nẵng. We're getting more comfortable with doing our own dirty work, so on boarding we motioned to the guy chilling in our seats to hop up.
Đồng Hới station early in the morning
This was by far the prettiest train trip we've done in Vietnam. The track goes along the coast so you get a passing view of fishing villages and deserted beaches edged with trees. You can buy pretty decent food on the journey too – we picked up some tofu in tomato sauce and a giant disc of addictive local peanut brittle stuck on top of a rice cracker (called kẹo đậu phộng), put in our earphones to drown out the pop music on the overhead TV, played peek-a-boo with the little boy in the seat in front of us, and enjoyed the ride.
Đà Nẵng is Vietnam's third-largest city and, like most of Vietnam, is under major development – skyscrapers and apartments are flying up all over town, and the coastline is filling with resorts. It's also the gateway to Hội An, a UNESCO World Heritage site and Vietnam's tailoring Mecca.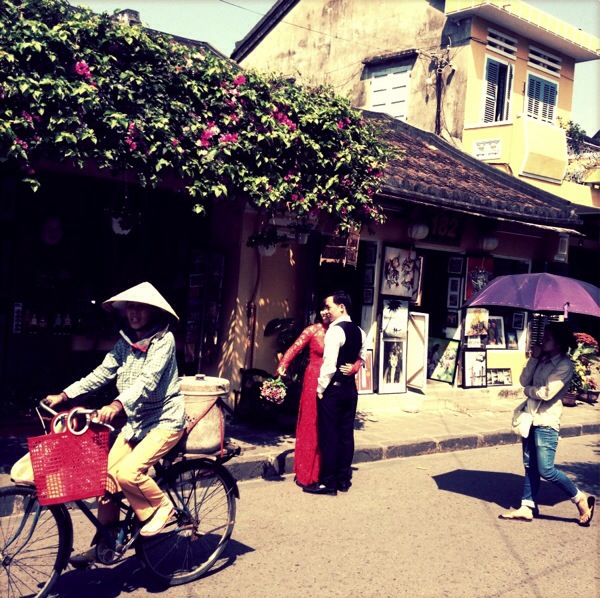 Enjoy Hội An
We'd heard a lot about Hội An's chilled out riverside atmosphere and its famous lanterns so we headed straight there instead of hanging around Đà Nẵng, despite our taxi driver's attempts to take us to a stone carving village, a pagoda, his sister's jewellery shop and the ruins at Mỹ Sơn before dropping us on the hotel strip. We walked around looking for a decent room. In front of a skeevy looking backpackers' hostel we got talking to two Australian guys who were eating tiny snails out of a bag using a long skewer (this is a common pastime in Hội An). 'How are the rooms?' we asked. 'Well, the door closes…', one guy replied. At the next guesthouse the only available room was what looked like a converted birdhouse on the roof.
Eventually we settled at Hội Phổ Hotel and headed out to get acquainted with the town. We immediately loved the pedestrian-only areas and the well-preserved old buildings. We checked out the riverside, fought off offers for boat cruises, grabbed a cheap dinner then stopped in for a terrible cocktail before hitting the sack.
Our festive hotel room at Hội Phổ Hotel
Stepping outside the next morning the famed old world charm was overridden by the stronger sense of desperation coming from all the people who had moved to Hội An to try to get ahead. Shouts followed us down the streets – 'Hello! Where you from? Where you going? You want a suit? Shirt? Dress? Come into my shop please!' Apparently the number of tailors in town has increased from around 140 in the early 2000s to over 600 these days, and there are not enough tourists to go round. There's an almost mafia vibe to it all, with the hotels trying to get you to use a particular tailor so they can collect a commission, and the tailors interrogating you about who sent you and what tailors other hotels had recommended – even the cab drivers are in on it.
The night prior we had agreed to a $15 room after having no luck finding something decent in the $10 range. We offered to stay for four nights if they were willing to drop the price down to $12 as the place appeared to have some empty rooms – they were cool with us staying one night but when it became clear to that we wouldn't be going to Kimmy, their recommended tailor, or booking any package tours, their friendliness cooled and the lady behind the desk picked up the telephone, pretended to speak to someone, and informed us they were fully booked the following night.
We packed up our stuff and started doing the rounds again – we ended up down the road at Hop Yen Hotel. They were out of $10 doubles but we snagged the classiest room in the building for $13. Check out the totally rad feature tile.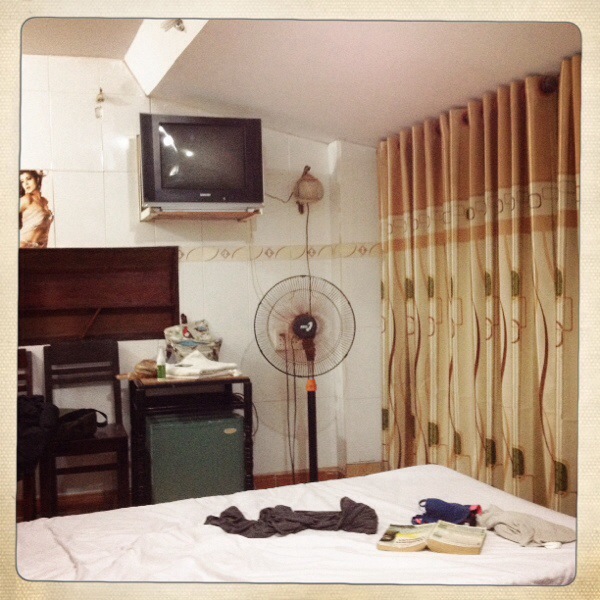 With a few sprays of DEET around the doorframe it felt just like home
If that seems like a lot of effort for what ended up only being a few bucks difference, it was. Since we're traveling long term, we try to stick to our guns on keeping accommodation costs consistently low. This is especially true when we're unsure of how long we'll be in an area – switching guesthouses frequently can knock out a couple of mornings but a few dollars difference a night multiplied can quickly add up to what could have been another night's stay. In this case, we only stayed in Hội An for five nights so it would have made more sense to stick with a $15 room as we lost a morning waiting around until check out time to pop our heads into different places to see what was available and ended up only saving 6 bucks in the long run. It's always a fine line when it comes to time versus money.
We spent the rest of the day checking out a few historical sites – Hội An has a number of museums, assembly halls, temples and preserved homes of notable local figures, and for 120,000đ you can visit five of them. Our favourites were the Cantonese Assembly Hall with its fountains, gardens and shrines, and the Japanese Covered Bridge, which was built in the 16th or 17th century when there was a big Japanese settlement in town.
Cantonese Assembly Hall gate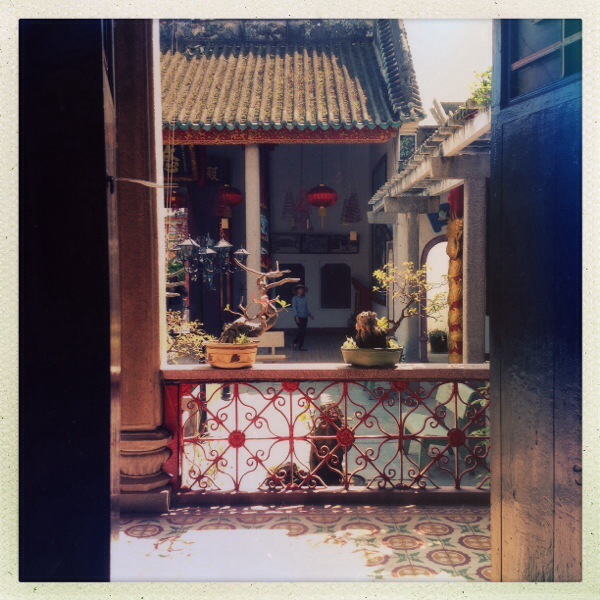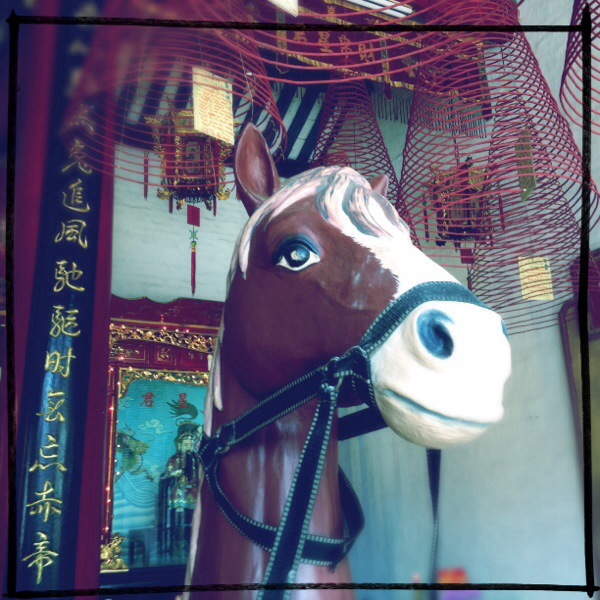 It was just after Tết when we visited so the altars in the Cantonese Assembly Hall were laden with incense sticks, different food offerings and flowers. Big coils of incense hung from the ceiling.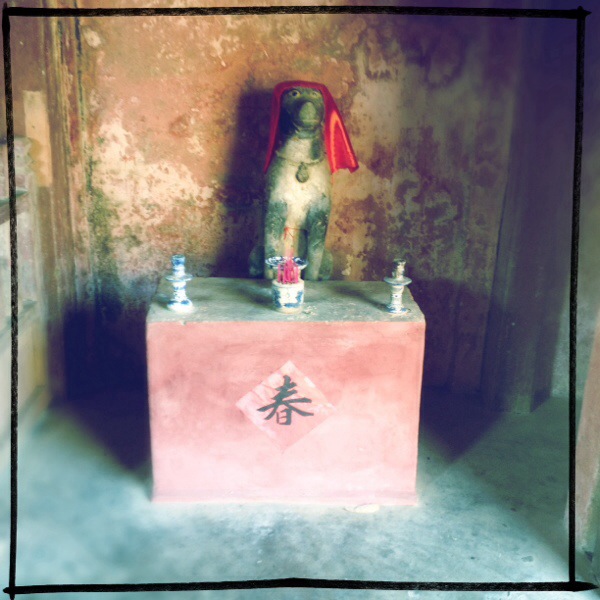 Dog god by the entrance to the Japanese Covered Bridge – the other entrance contained a similar statue of a monkey god. In the center of the bridge is a small altar to Bắc Đế Trấn Võ, the Vietnamese god of weather, who we thought might be the same as the Chinese Taoist deity Xuan Wu.
Detail from the Covered Bridge
The real highlight for us, though, was the food. Vietnamese food is a lot more regional than we knew before arriving. Every region – north, south and central – has its own cooking styles and some cities also have their own particular specialties. The food in Hội An was a lot lighter and more varied than the meat-and-rice/noodle combinations up north. Being beside the river means lots of fresh seafood (Katie's been on a steady downward slide from vegetarian to a vegaquarian who occasionally gives up and eats meat) and one of the major central and southern Vietnamese dishes is bánh xèo (crispy pancake), a favourite Vietnamese food from home. As well as the ubiquitous phơ, there were a bunch of different noodle soups to try – cau lầo (vege version included crispy tofu, vegetables, fat udon-style noodles, a little broth, bean sprouts and fresh lettuce and herbs, with croutons on top), bún bò Huế (spicy Huế-style noodle soup) and mì quảng seemed to be the most popular. White rose dumplings – steamed dumplings stuffed with prawns – and duck spring rolls were two other notable local dishes.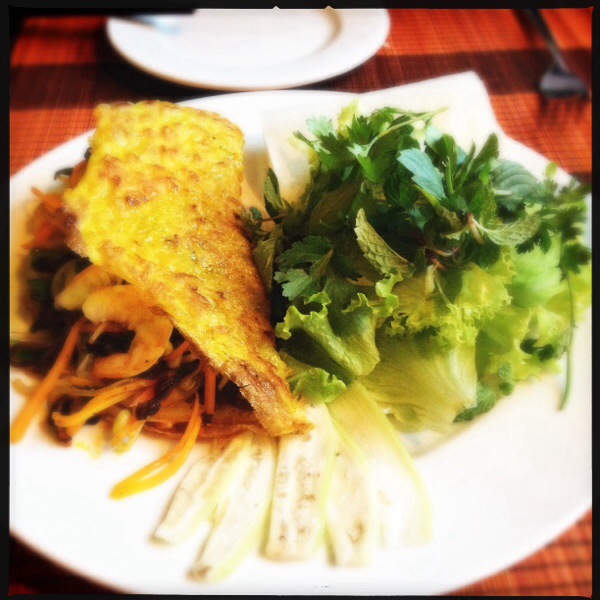 One of many crispy pancakes consumed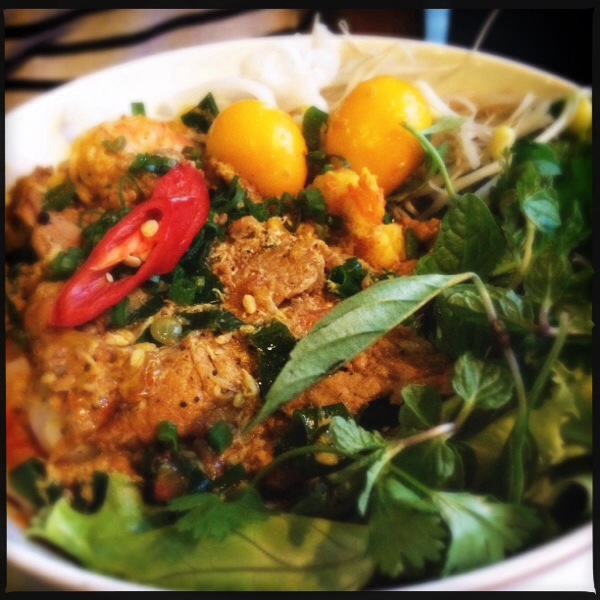 Mì quảng (rice flour noodles in pork and shrimp broth, topped with pork and shrimp, quail eggs and herbs) from Streets Restaurant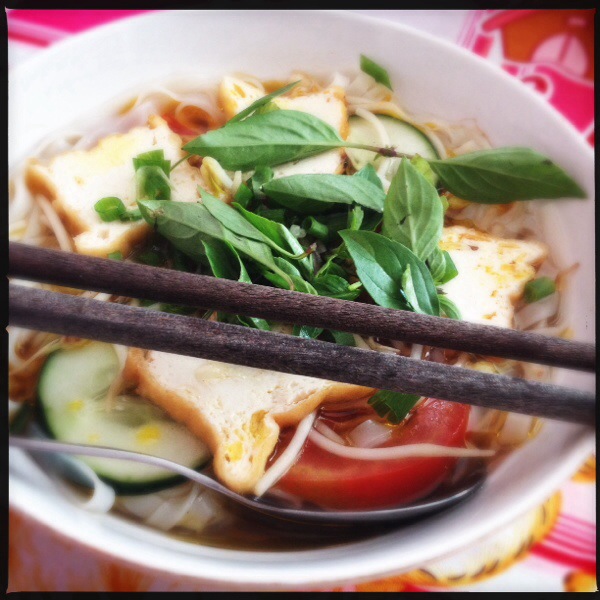 20,000đ (~$1) vegetable phơ from Restaurant Như Ngọc, the food stand across from our hotel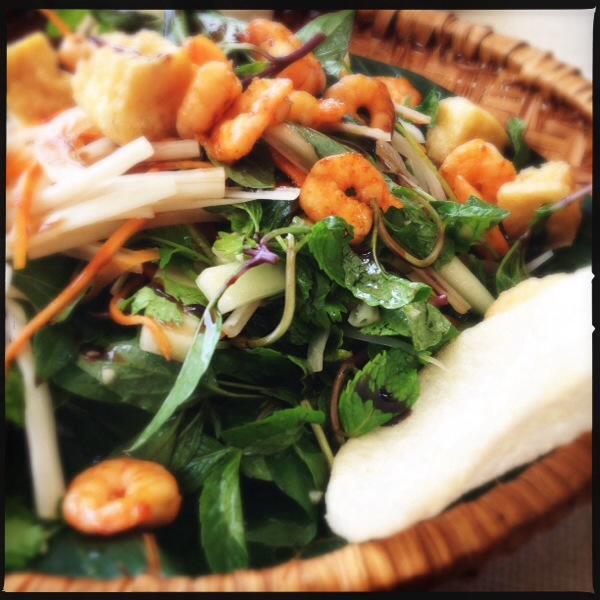 Tofu, prawn and lotus flower salad from Fusion Cafe
There are a number of shops and eateries in Hội An that focus on providing work and training opportunities for people who have disabilities or are otherwise disadvantaged, which was really cool to see. We liked Streets Restaurant and the Reaching Out Tea House, a silent tea house run by people with hearing impairments. You fill out a paper form with your order and you can talk to the staff using little wooden blocks that say 'Thank you', 'Water' etc. or by writing them notes.
The teas, coffees and biscuits on offer were amazing, as was the tableware, which is all designed and produced by artisans with disabilities. And after a few days of being shouted at by tailors the silence was very welcome!
We did end up getting some clothes made by a tailor called Miss Forget-Me-Not. We brought some favourite clothing items along and she and her staff copied the patterns for us and ran up two pairs of linen pants, two blouses, a shirt and a skirt in the space of 24 hours.
After a few days we were keen to get to the beach, so we headed out of town. In hindsight, we probably should have stayed in Đà Nẵng and just done a day or two in Hội An – driving back to Đà Nẵng station the city seemed a bit more chilled out, the beach looked beautiful and more suited to swimming than the choppy beaches in Hội An, and there wasn't a tailor or lantern in sight.
Waiting room at Đà Nẵng Station
Our next destination was Nha Trang, a beachside town about halfway down the Vietnamese coast. It's a fun place to chill out and re-up on Vitamin D. There's not a huge amount to do except drink coffee, relax on the beach, hit the bars and enjoy a big dinner.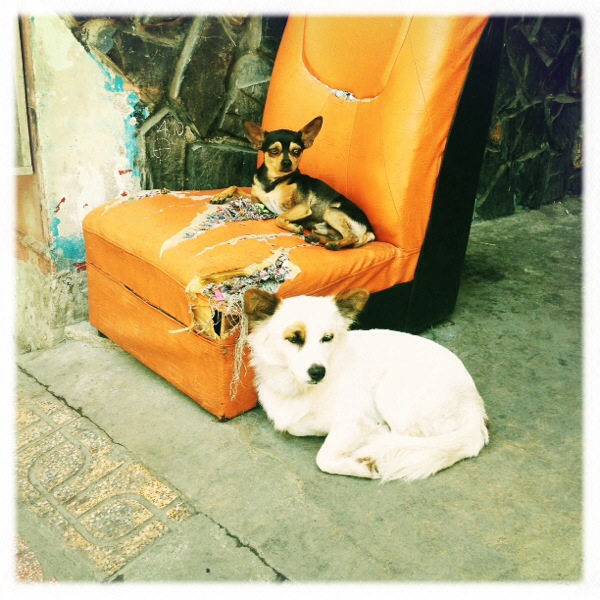 Designer dogs
Nha Trang is by far the most touristy and developed place we've been in South-East Asia, which has its pluses and its minuses. Everything is very easy – all the locals speak English, the streets are relatively clean, there's restaurants galore, a KFC, outlet stores (with western sizes), a massive shopping mall with a cinema and rooftop bar, and all the seedy massage parlours your leathery old heart desires. They even have a brewhouse that produces its own craft beers. But it also makes the place very generic – you end up feeling like you could be anywhere in the world, from the Gold Coast to Kuta to Cancun. The legions of glammed up Russian tourists only added to the strange sense of place – there are three direct flights from Moscow to Nha Trang each day and all the shops have signage and menus in Russian as well as English.
We got to talking with a local at a coffee shop who was afraid that the mass influx from Moscow was ramping up property development while driving up prices in what he feared was a bubble that could pop as soon as it becomes too expensive for the average Russian tourist.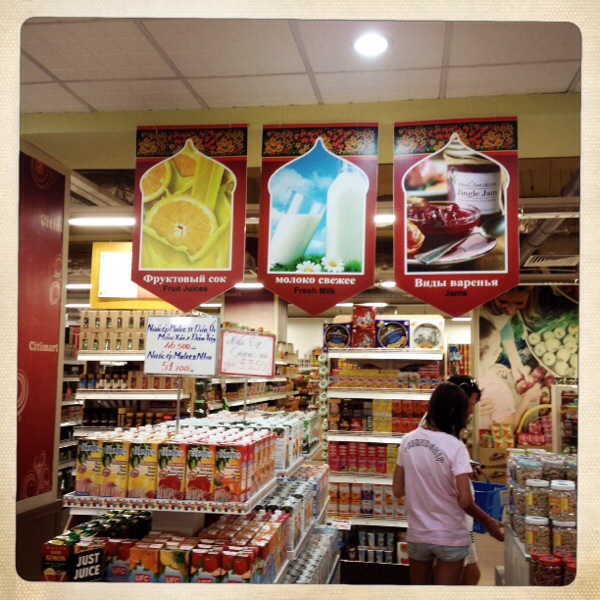 Moloko for sale at the local supermarket
Despite how touristy it is, everything is still cheap. We stayed at Saint Paul Hotel and had a spotlessly clean air-conditioned room with a window, cable TV (we enjoyed watching The Matrix with Vietnamese subtitles – 'Tam biệt, Anh Anderson!') and a fridge, 3 mins from the beach, for between $12 and $14 a night. You can get top-notch breakfast for two at Le Petit Bistro for 110,000đ (~$5.40), and Sydney-standard lattes at Cuppa for 40,000đ (~$2).
Lying on the beach costs nothing, unless you decide you want the 'VIP' treatment, which gets you a sun bed, fluffy towel and access to a shower and pool for 100,000đ (~$5) a day. We never went for that deal, but occasionally rented out a couple chairs with an umbrella for 40,000đ (~$2).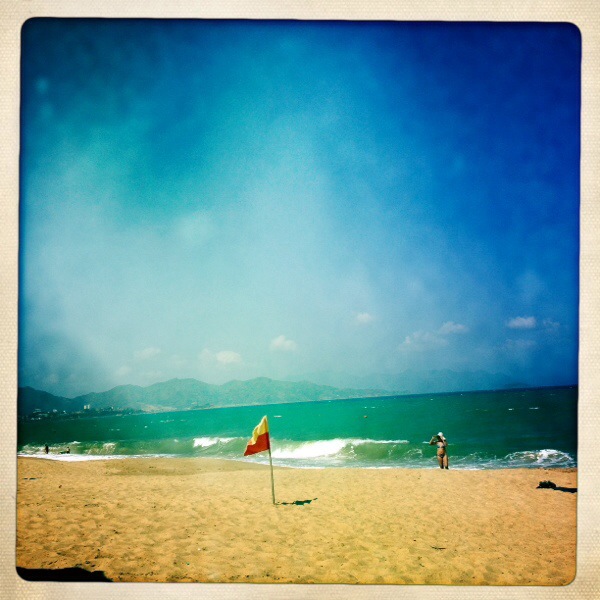 Nha Trang beach
Entrance to Long Sơn Pagoda
To break up the hedonism we caught a green cab out to Long Sơn Pagoda. Unlike at other religious sites we've visited, we didn't see any monks around except the one who was running the attached restaurant. We didn't see any locals stopping by to pay respects either and it had the vibe of a once active temple turned tourist trap.
It was more intense than expected as children, the elderly and people with disabilities begged along the stairways, others installed themselves at the entrances to each section and asked for payment to come in (there is no entry fee), a guy with neck tatts gave us incense sticks (and then demanded 50,000đ) and we had to waive off young people who tried to give us uninvited 'tours' (i.e follow you while talking and then ask for money) – the only sacrilege appeared to be putting money into the official donation box.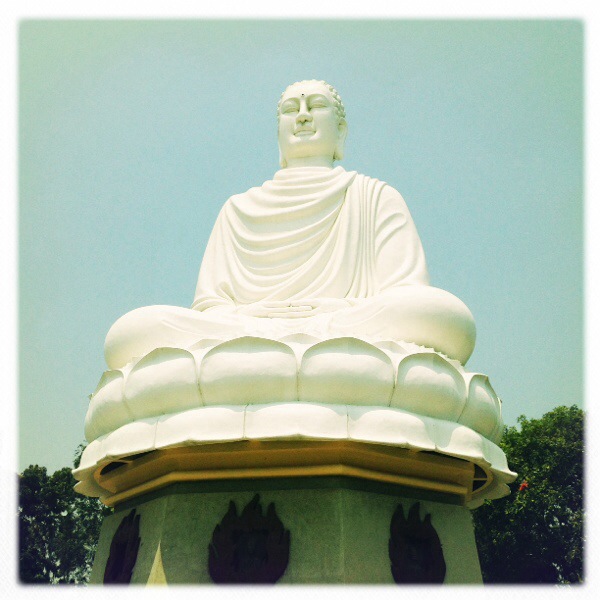 Buddha at Long Sơn
Next we drove to Po Nagar Cham Towers, the ruins of a Hindu temple built by the Cham who once ruled part of southern Vietnam. Po Nagar is run like a well-oiled machine in comparison – entry is ticketed, the grounds are manicured and professional guides can be hired for an extra 22,000đ. Proper dress is enforced – those who wanted to take glamour shots in their short shorts and strappy tops were dismayed when staff issued them with dour grey monk robes to cover themselves. The towers were cool to check out, but the ruins at Ayutthaya and Sukhothai in Thailand are pretty hard to beat.
Cham towers
Nha Trang as seen from Po Nagar
The food in the touristy area of Nha Trang wasn't exactly exotic but there were plenty of good cheap restaurants serving Vietnamese, Indian, Italian, Russian, Spanish and standard western pub food. Our favourite places were Yen, Lanterns and Ganesh Indian Restaurant (the only place we've found in Southeast Asia that actually put paneer in their palak paneer).
Best chicken phơ from Yen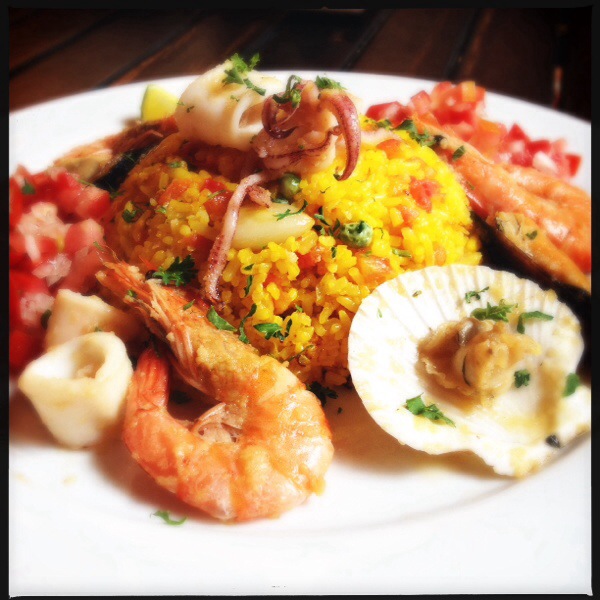 Seafood paella, glass of sangria and salad for 6 bucks from La Mancha
After a week and some change it felt like time to move on. We went down to the Phuong Trang bus station and bought a 145,000đ ticket to Dà Lật. Back in Hanoi we'd had a few beers with a Canadian woman who had loved Luang Prabang as much as we did – when we asked her what her favourite Vietnamese city was, she answered without hesitating: 'Dà Lật!' Sold.