Posted by Katie
The one firm plan we had in place before leaving the states was to spend Christmas and the New Year in Pai, in the north of Thailand. Neither of us are into Christmas so we wanted somewhere we could relax, read books, play cards, drink beer, go for walks and lie around in a hammock. Pai was perfect for all of these things.
We got into town on the 23rd of December after a long and winding minibus trip from Chiang Mai. The road to Pai has 472 hairpin curves so we chose the minivan option as apparently at least one person per coach trip will puke. We all made it intact. We weren't sure where our accommodation was but a crafty songthaew driver snapped us up and drove us there for 150 baht. When we arrived 3 minutes down the road the owner of our guesthouse laughed and told us that was the highest price he'd ever heard of someone paying. But, as the driver explained to us in his otherwise broken English, 'Gasoline is expensive.' Indeed.
First impressions of Ing Doi House
Jake, who owns Ing Doi House with his wife Mink, showed us to our bungalow, which sat at the edge of a duck pond filled with lotuses. Its front door looked out over the mountains and palms. On the veranda was a hammock and a comfy chair for reading.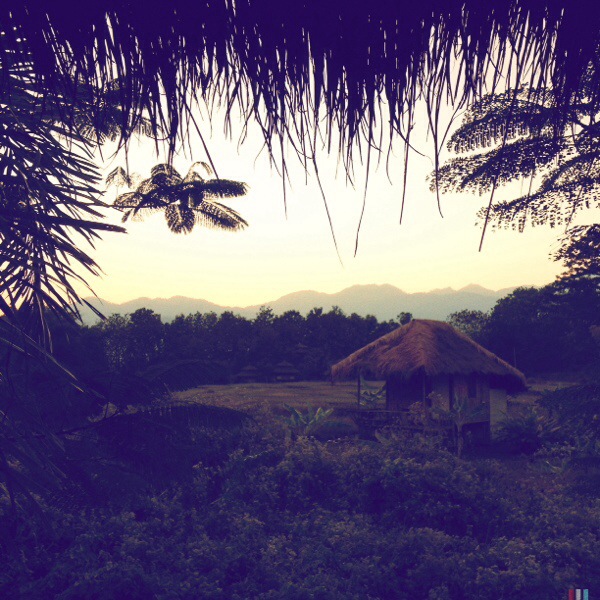 Sunset from the verandah
The guesthouse had a common area where you could meet other people and get food and drinks. For Christmas, Jake and Mink organised a pot luck. Everyone brought some food or booze from town and Mink cooked up more food for everyone to share. We contributed a bottle of Bacardi – nothing says Christmas like hard liquor. We spent the day hanging out and getting to know the other guests. There was Ian from Birmingham, an avid traveller who was revisiting Pai after an absence of 12 years. There was Max, a young mustachioed guy from Colorado who had been living in Hollywood before running away to Thailand to live with a hill tribe for a month to get over it. There was David, a witty west coast American looking for love. There were Lisa and Rob, young professionals from San Francisco who were excited about their two-week vacation until they heard how long everyone else was travelling for. There was Julie from Chicago, who had been hanging out in Pai for a few weeks already. (I was surprised by how many Americans we met actually, given that when Brendon and I told people in America about our plans most of them looked at us like we were crazy.) We ate and drank and then headed to the night market with David, Lisa and Rob for more eating. In a way it was like any other Christmas, but with strangers and palm trees.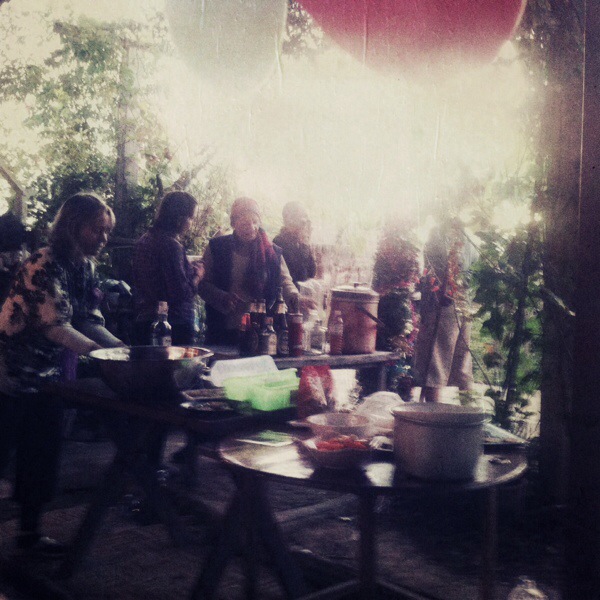 Christmas festivities
Ing Doi House is a ten-minute walk from the town centre so we were away from traffic and other people but close enough to walk in any time we felt inclined. We loved the night markets, which sold loads of food, souvenirs, clothing and tea in bamboo cups. We loved the all the different places to eat, especially Good Life and The Thai Kebab (see food post). We also loved the bars, which at last were completely free of sleazy white dudes! We checked out a western bar with David and new arrival Derrick, a quiet Austrian who was working on a book. All the staff wore cowboy hats and checked shirts and we drank far too many happy hour gin fizzes.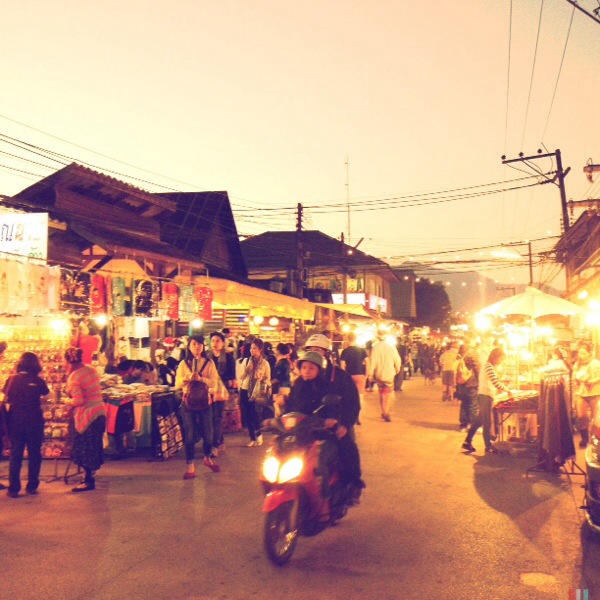 Night markets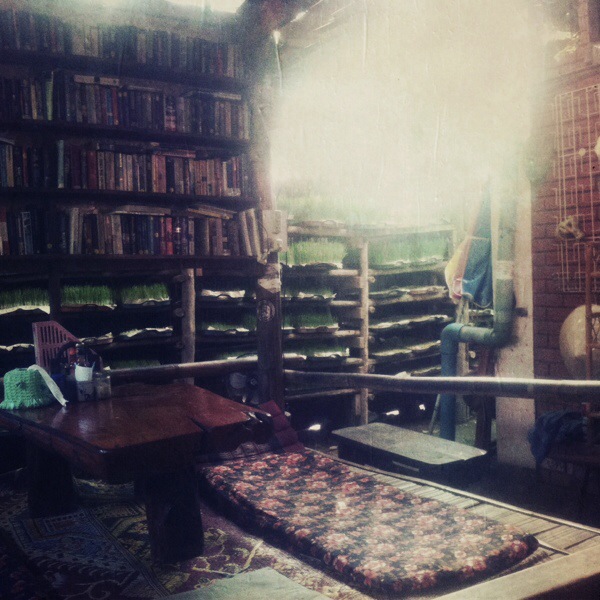 Inside Good Life tea house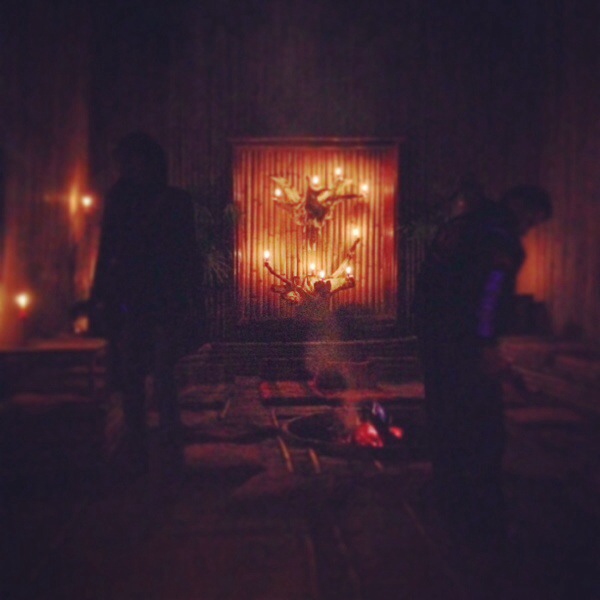 Fire pit at Ting Tong Bar
We spent the week between Christmas and the New Year chilling out, with nothing more pressing to worry about than what we would eat, where we would go for a beer, and whose turn it was in Gin Rummy.
On the 30th of December things started hotting up – Thai reggae star T-Bone was coming to Pai. There were traffic jams as Toyota Hiluxes piled high with young Thais pulled into town. The fields by the river became crowded with tents. Stalls selling fireworks popped up along the streets. We listened to T-Bone's performance from the safety of our bungalow – his set consisted of lots of Bob Marley covers and shouts of 'Rub-a-dub style!'.
New Year's Eve was even crazier. Excited young people couldn't wait for the festivities to begin and started setting off fireworks around 10am. Brendon and I decided to hike up a mountain to escape and see the white Buddha. We passed farms where families were haying the fields, we saw buffalo with birds sitting on their backs.
Our walk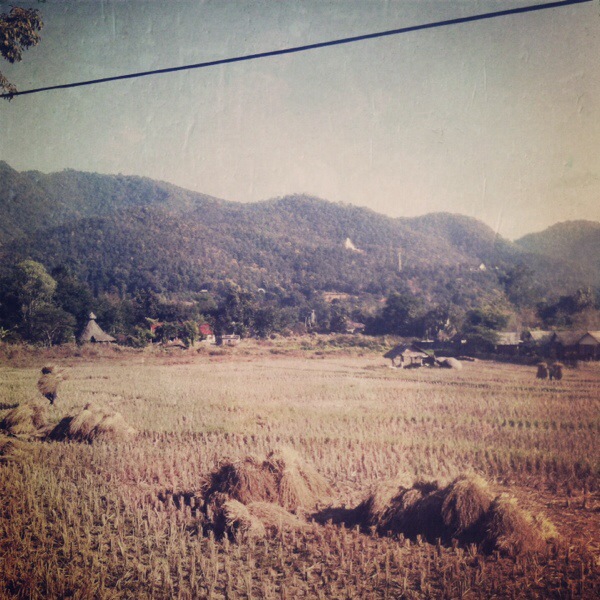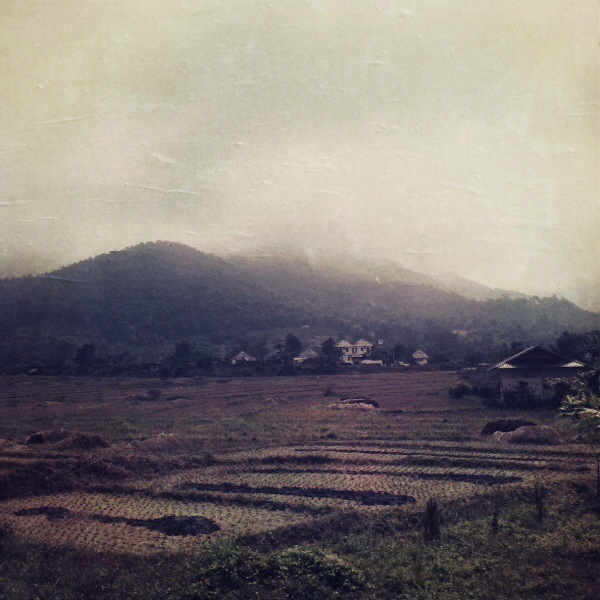 We walked along the road to the temple and then climbed the gigantic staircase up the mountain to the Buddha. He was still under construction – apparently the white is just an undercoat and he'll eventually be painted gold. I liked him white – at night you could see him shining softly among the trees.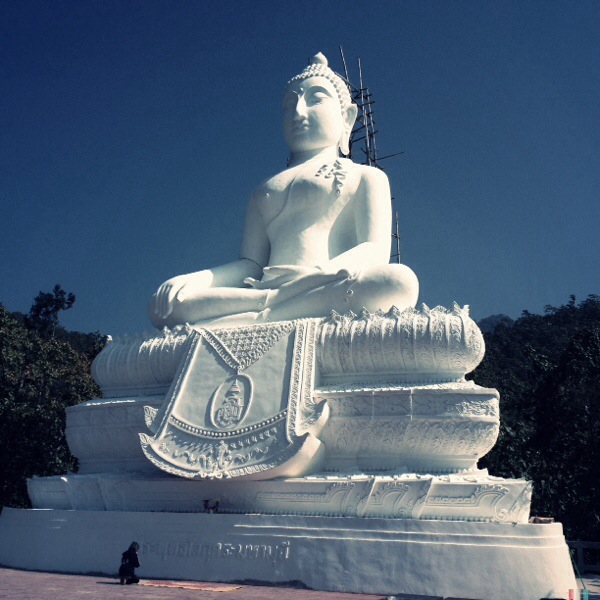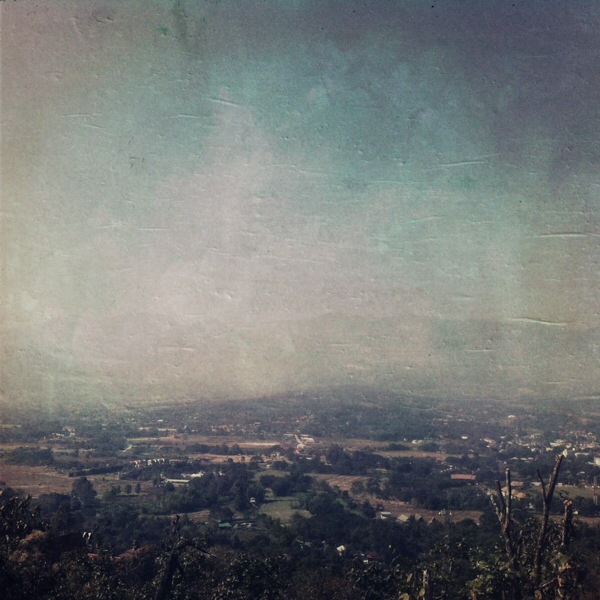 View over Pai
Back at Ing Doi, Jake and Mink had organised a New Year's Eve party. There was a pot luck, and each person was to bring a 100 baht gift – in exchange they would receive a gift. Brendon and I found a 'mountain village version' Rubik's cube and wrapped it up to go into the draw. The party began at 5:33. We chilled with fellow 'Strayans Martha and Rees. In the back of the common area a series of mosquito nets had been tied together and filled with balloons. Mink jumped onto a makeshift stage and started shouting and excitedly waving a large stick around like a sword. She called out each of our names and sent us into the net with the stick to pop a balloon. Inside each balloon was a number that corresponded to the gift we were to receive. Jake and Mink's son Pansa got the Rubik's cube.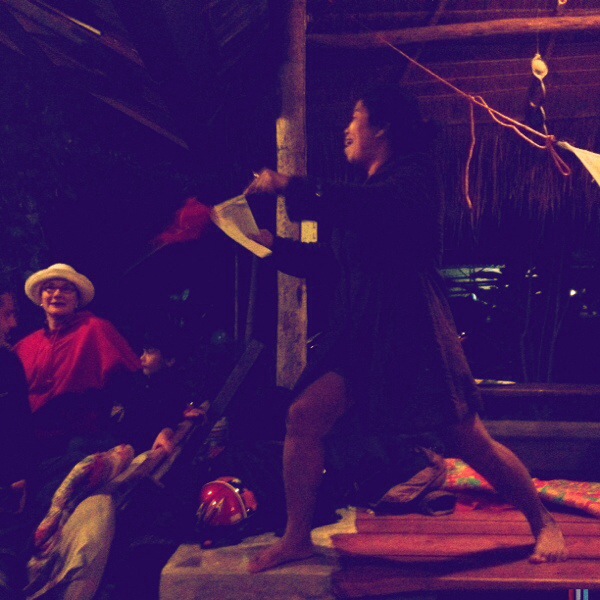 Mink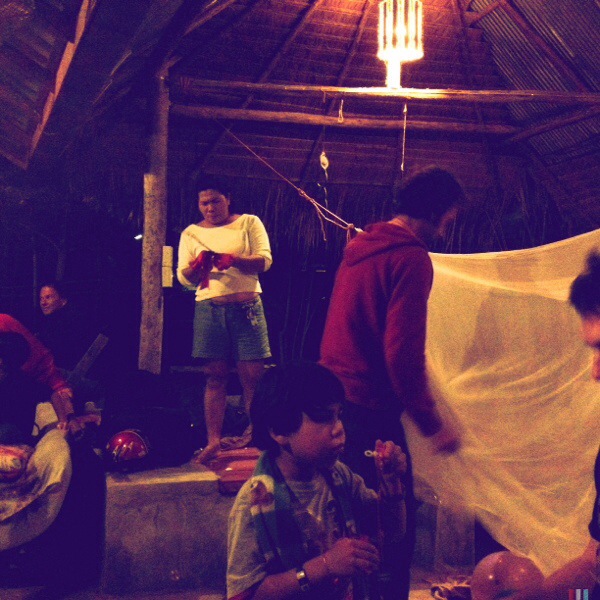 Ian goes in; Pansa in front testing out Rees's gift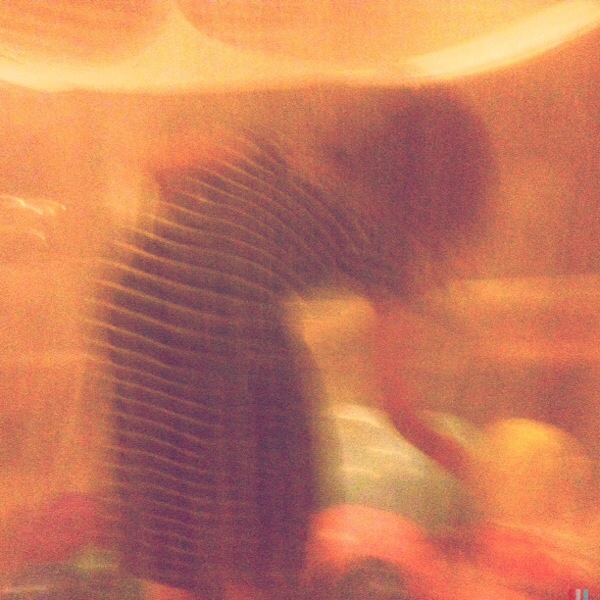 In the net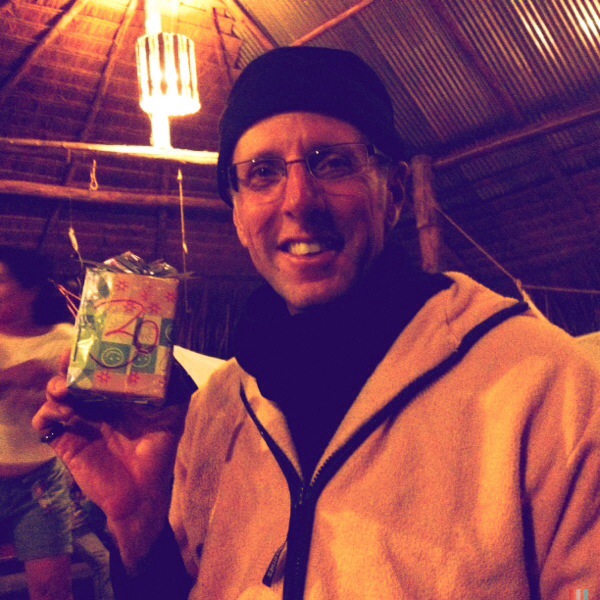 David and his gift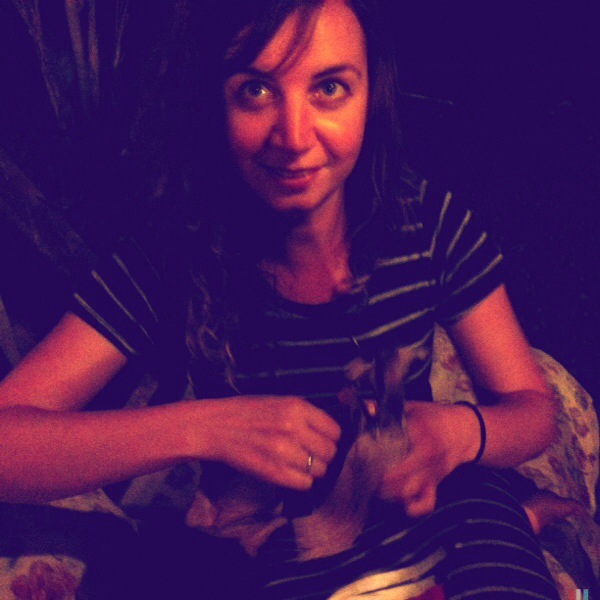 The unwrapping! I got a scarf, which has been pretty handy since it's been freezing in Luang Prabang
From about 9pm the skies were filled with hundreds of lanterns (khom loi) made of rice paper, with a candle and sometimes a firework burning in the bottom. It was amazing to see – it looked both festive and ominous, like a meteor shower or alien invasion. I could see why the local farmers had been so keen to hay their fields that day – a smoldering lantern falling on your dry grass could undo a lot of hard work. We hung out by the campfire for the midnight fireworks then crashed out.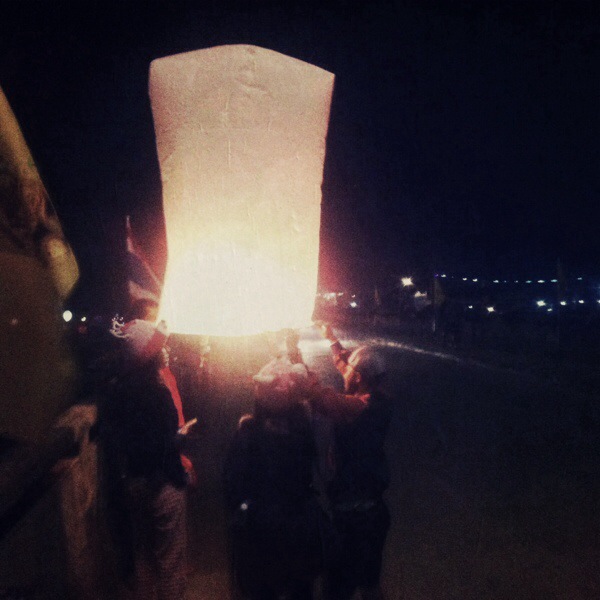 Revellers getting ready to launch a lantern
Getting into the spirit
The next morning we ventured out to survey the damage. The fields, streets and river were littered with the burnt out remains of the lanterns. The tents by the river were packed up, the Hiluxes were heading out of town. We went for dinner with Martha and Rees at a seriously local place where the waitstaff ignored us in the hope that we'd go away. We got a couple of serves of khao soi and green papaya salad by pointing vigorously at the chef, then managed to nab a menu and ordered 'noodles with tomato sauce' as I figured it would be vego. When the noodles came they contained dark red wobbly cubes of… congealed blood. Mm. Call me crazy, but I probably would have put that in the description.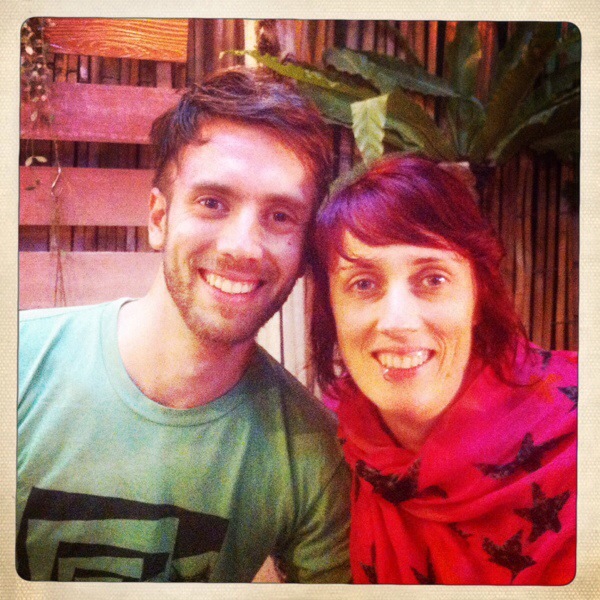 Rees & Martha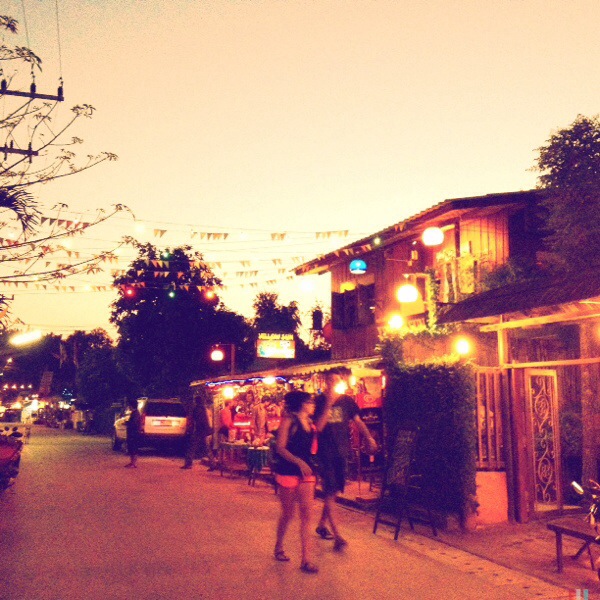 The streets were quiet again
We kicked around the night markets one last time. Brendon and I stopped in for a goodbye beer at our favourite place 'purple bar' (it didn't have a name that we could see). The lady there knew us and always said hi whenever we walked by. On this particular evening she was super excited because T-Bone had stopped in for a bevvy with his entourage. She shyly pointed him out to us and grabbed a photo with him before he sped off on his motorbike with a pretty lady on the back.