Posted by Katie
We tried so much amazing Thai food – mostly vegetarian or 'mang-sow-ee-rat', with occasional seafood and accidental meat thrown in – that a post of observations and highlights seems appropriate. If looking at Instagram pix of people's food pisses you off… you know what to do.
My favourite discovery was khao soi – a rich soup made with coconut milk, tomato, onion, chili and spices, rice noodles, potato pieces, sometimes tofu or sometimes gluten balls or mock meat, garnished with deep-fried egg noodles, fresh shallots and coconut cream. The meat version usually has chicken or pork. On the side, if you're lucky, you'll get a plate of kimchi, lime, chilli paste and red shallots. This dish originally comes from Burma but it's also spread into northern Thailand and Laos. I'm totally hooked and try it everywhere. #1 place goes to Aum Vegetarian Restaurant in Chiang Mai, where I had my first. These women know how to garnish.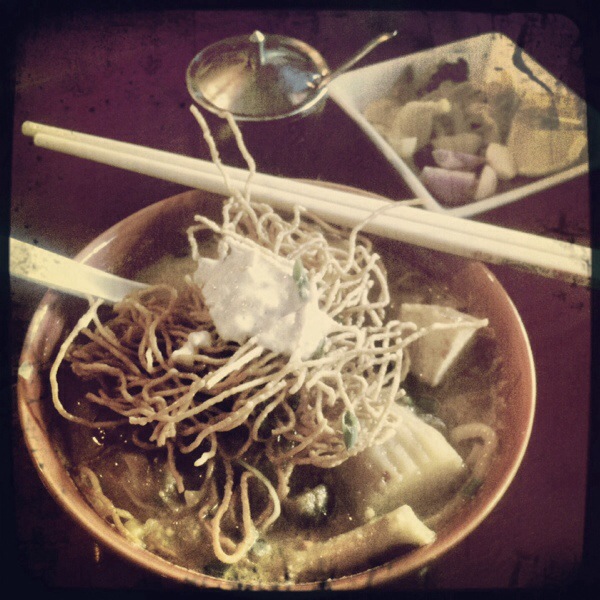 The guy at the Curry Shack in Pai also makes a good one (and it's very cheap – 50 baht), though he uses pre-packaged fried noodles for the topping. But he gains points for being a lone dude running a food stand – a total rarity in Thailand as far as we've seen – and serving his food with brown rice grown by the local hill tribes.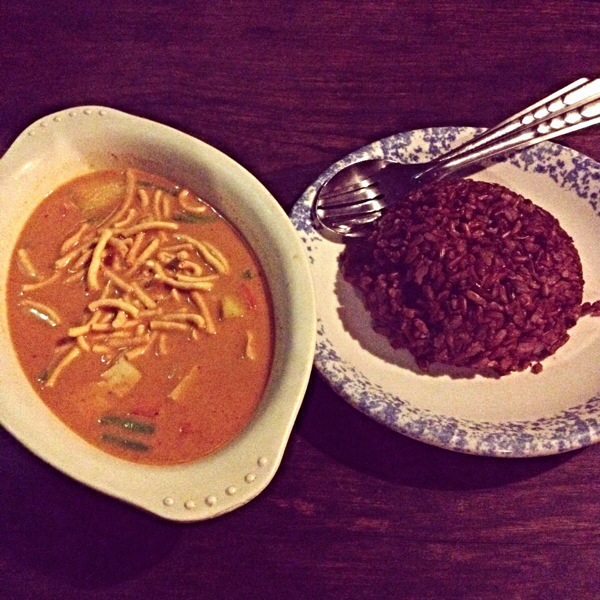 The khao soi salad with tofu from Om Garden in Pai is also excellent.
We learnt to make khao soi in our cooking class at Bamboo Bee so hopefully I'll be serving this up at home in a few months. This is all the stuff we made – clockwise from left are spicy Isaan salad, healthy fried rice, khao soi, spicy mushrooms with cashews, and tofu with kimchi.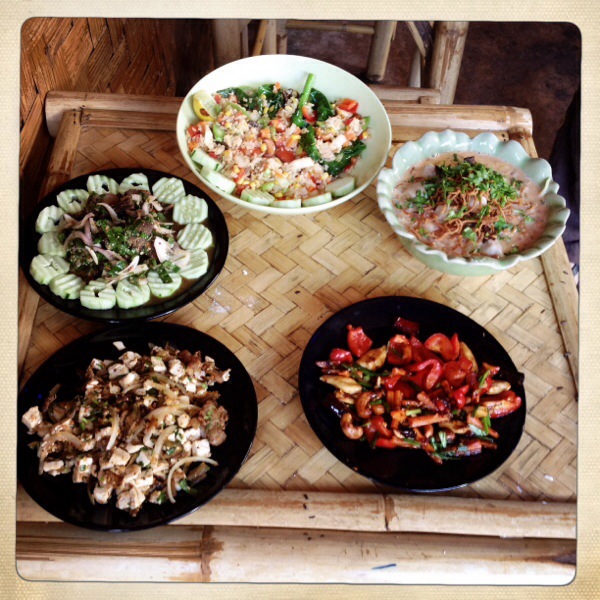 We've been really impressed by the vegetarian and vegetarian-friendly restaurants in Thailand. In Chiang Mai we kept going back to Aum and Bamboo Bee, both of which serve a huge range of vege food from around the world – Thai soups, stir fries and curries, fresh Japanese sushi and gyoza, Chinese wonton soups and spring rolls, Mexican guacamole and American-style burgers with 'french fried'.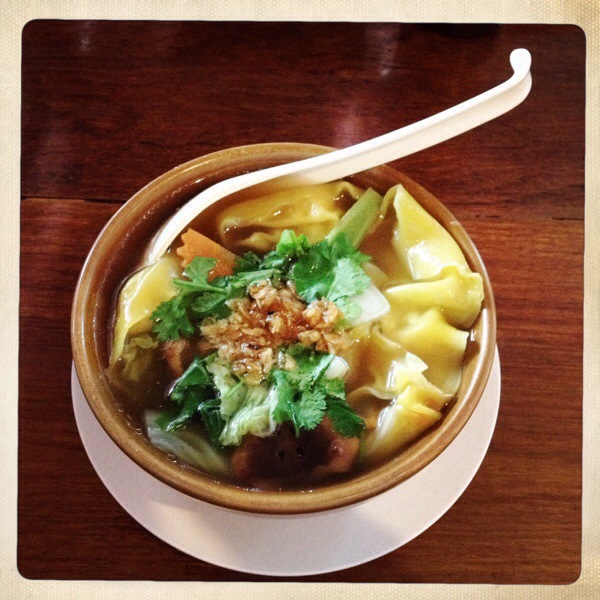 Wonton soup from Aum
Fivespice vegetarian duck from Bamboo Bee
On the more gourmet end of the spectrum is Anchan Vegetarian Restaurant in Nimmin, Chiang Mai. We went for dinner with Jeanne and Joey and ordered pretty much everything on the menu. Stand-outs were the banana flower salad, eggplant miso stir fry and the massamun curry with mushrooms. We ate too quickly to get a pic.
We generally eat street food for dinner – it's cheap, fresh and delicious. Each night the streets are lined with food stands selling amazing stuff for as little as 10 baht (~30c) or as much as 100 baht (~3 bucks).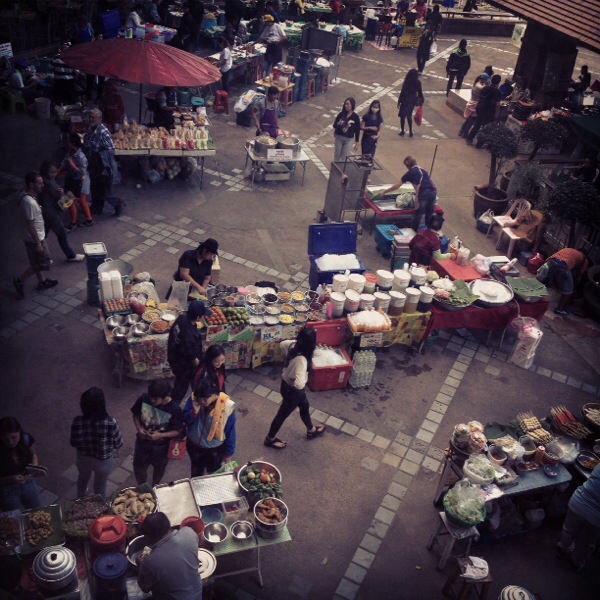 Thais will set up food stands absolutely anywhere – this was in front of a shopping centre in Chiang Mai
Finding vegetarian street food was a bit of a struggle at first, especially when we were shy about busting out our shithouse broken Thai. Our first major success came when we stumbled on the opening night of the Ayutthaya World Heritage Fair, which included a farang-friendly food market showcasing regional dishes, complete with English signage. This was a great way to get acquainted with different street foods and we tried some of the more unusual stuff like a dessert made from corn, coconut, rice, gluten balls, an egg and god knows what else – surprisingly tasty. I tried grilled fermented fish, which is about 500 times better than it sounds – crispy on the outside, juicy and vinegary on the inside, served with cabbage leaves and whole green chilies. Brendon's favourite was the som tam (green papaya salad), though he felt a little disappointed when the cook, on seeing that he was a foreigner, pulled a bunch of chillis out of the dish. He's since learnt how to ask for things 'normal spicy' – 'phet tamadaa'.
Ayutthaya's Pa Thon Road market also had some good stuff to eat. A stall down the end sells fresh mushroom soup made from all sorts of exotic mushrooms that would probably be too expensive to buy in Sydney if you could even find them. They throw big handfuls into a dark broth with some greens and herbs and mouth-numbing amounts of chilli. The lady selling the Thai fish cakes with cucumber and spicy sauce is also a winner, as is the squid on a stick.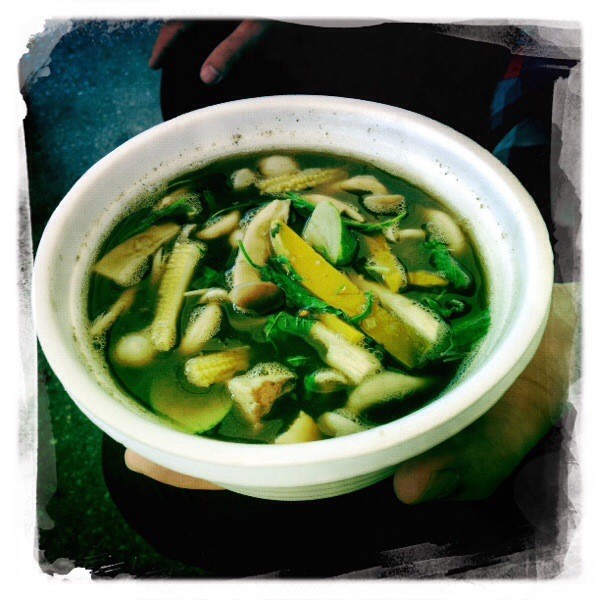 Things on sticks are very popular. Grilled sausages, mushrooms, bananas, squid, pork and chicken are just a few of the options on offer pretty much everywhere. Experienced eaters simply walk over and grab the exact skewer they want. Brendon is an enthusiastic sampler of all the Thai sausage varieties, which can be smelt sizzling away by the side of the road at any time of day. He learnt how to ask for them well-done – 'suk-suk' (said like 'look-look'). The best was a chicken sausage with lemongrass, chilli and vermicelli from a stall outside the 7-Eleven in Sukhothai. The soi dogs hanging around the grill obviously couldn't resist the aroma either.
The street food in Pai was our favourite – as it's a hippyish town with a small Muslim population there are lots of vege options, heaps of variety and everything is pretty well signposted. Each night we wandered down to the 'walking street' and grabbed whatever looked good.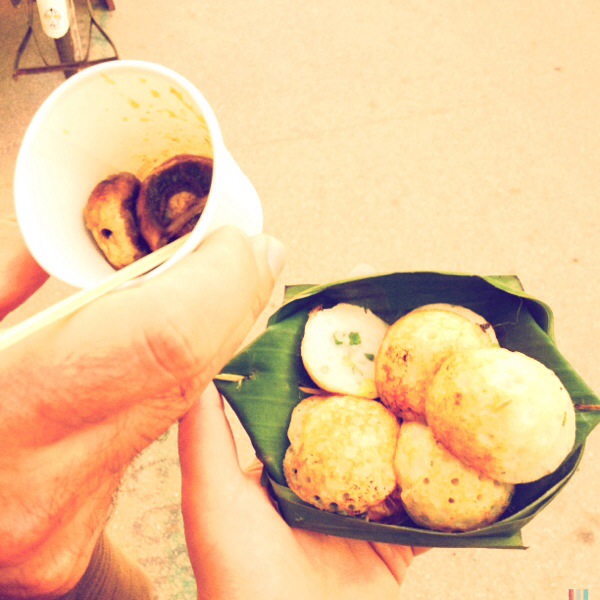 Coconut and shallot cakes (15 baht) and grilled mushrooms (25 baht, though available down the road for 10 as we found out a few minutes later)
On Christmas night, half-bagged, we discovered Yunnan fresh noodle soup (30 baht). We asked if it was 'mang-sow-ee-rat' (vegetarian) and the lady said yes. Brendon asked for it 'kin phet' (spicy) and we were very pleased with the result. The next day we went back and forgot to ask for it vegetarian and realised that the soup had chicken in it all along – I guess they just fished out the meat last time. Oops!
When street stalls are looking a bit too meaty there are always the desserts. The best yet was a stall we found in Sukhothai where you get a bag (everything here comes in a plastic bag) of sticky rice, a bag of peeled jackfruit and a little bag of coconut and condensed milk sauce. You put the rice in the jackfruit, cover it in sauce and shove it in your mouth before it all falls apart. Roti stands run by Muslim Thais are also common – I recommend the banana and Nutella roti.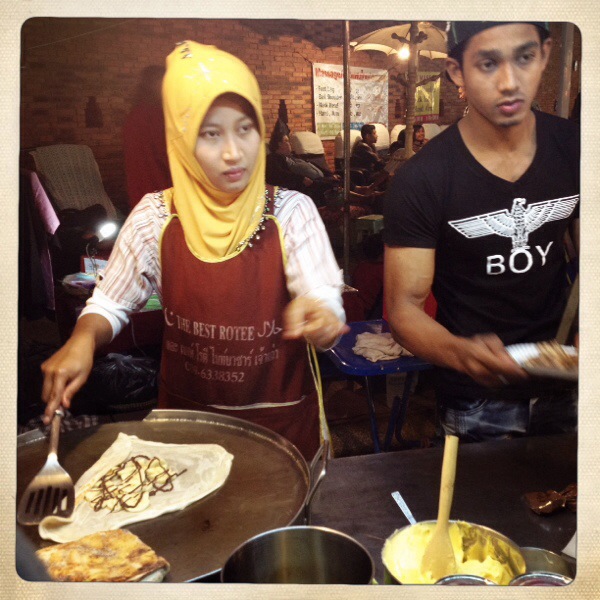 Young stall-owners in Chiang Mai
In Pai I can vouch for the mini pancakes with chocolate (also available plain or with banana) that an Israeli kid on the street was evangelising about – a big helping will only set you back 20 baht if I remember right.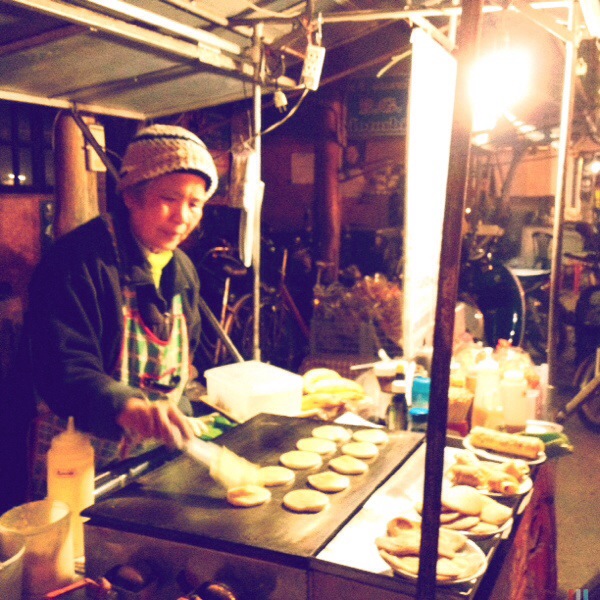 Although Thai food is amazing, sometimes all you want is starchy, cheesy, doughy, comforting western food. Thai renditions of western dishes can be pretty hit or miss but we found some hits. Sham Poo's baked potatoes from the night markets in Pai – kind of expensive at 100 baht but delicious and big enough to share – are one example. There are about 6 filling combinations to choose from. I went for a mix of pesto, corn, sprouts, cabbage, cheese and other veges.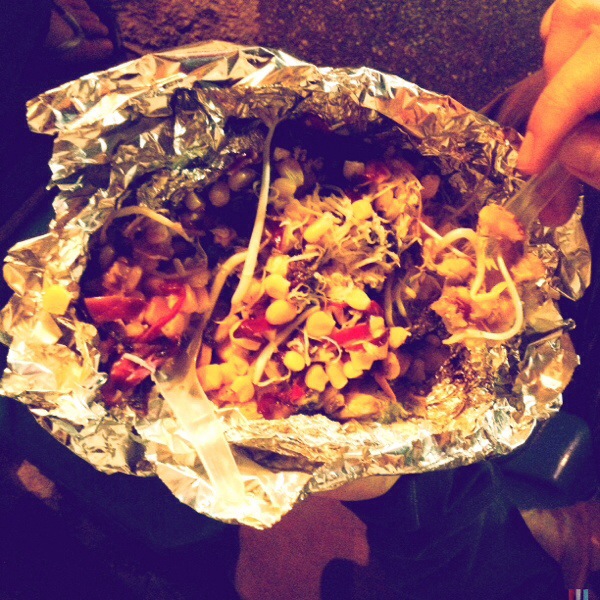 Honorable mentions go to Boutique della Pasta and Dada Cafe in Chiang Mai. BdP serves reasonable pizza and chilled red wine (just the way our dads like it); Dada serves juices, healthy breakfasts and the never-before-seen stuffed omelette. They also do avocado on toast, our breakfast staple back in Sydney.
In Pai we were visiting Good Life and The Thai Kebab on the regular. TTK is a felafel and sabich joint owned by a Jewish American guy. Everything there is amazing and they give you free reign of the tahini sauce.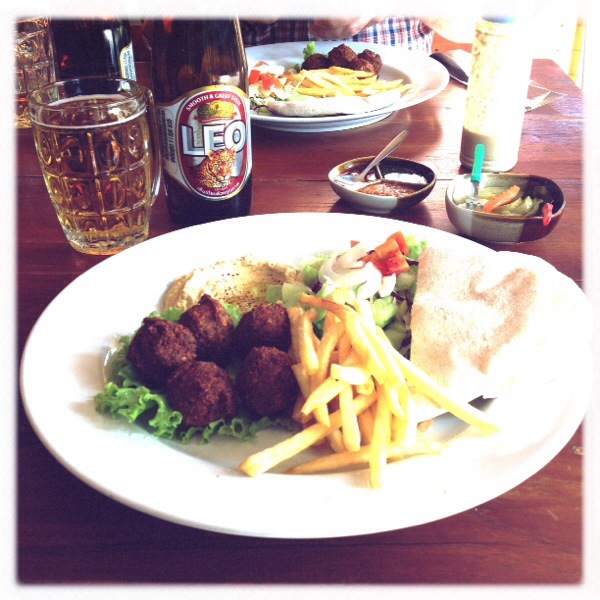 In addition to all the food, there are plenty of great drinks to try in Thailand (apart from the obligatory Leos). Good Life is a tea house and cafe in Pai. It has a 90s doof herbal vibe and serves weird stuff like kombucha and kava tea as well as breakfast, sandwiches and snacks. The mint oolong tea and the orange-coloured Thai tea served hot with condensed milk were my favourites. Brendon was more adventurous and tried the kava kava (his favourite – it had a mild sedative effect that took away any anxiety without making you feel dumb) and the Lingzhi ('medicine of kings, spiritual vegetable meal' as it was listed in the menu). This arrived at the table with a weird piece of something sticking out of the cup – our server referred to it as 'the dragon's tongue'. Later research revealed that this was a slice of lingzhi mushroom. This tea is supposed to have medicinal properties like reducing body fat, increasing white blood cells and relieving pain. It tasted sooooo disgustingly bitter though – it must be really good for you…
Lingzhi tea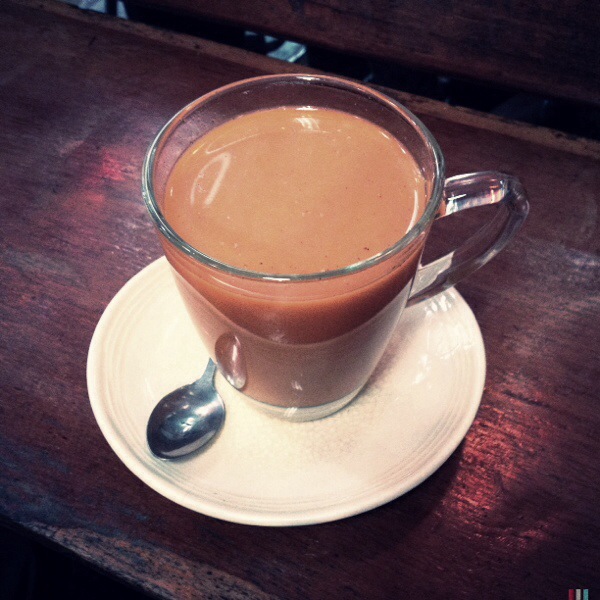 Thai milk tea
Fruit lassis (fruit, yoghurt/coconut milk and crushed ice) and fruit shakes (fruit and crushed ice) are also available everywhere in Thailand. The coconut lassi is another new discovery that I hold close to my heart.
Dragonfruit lassi from The House Restaurant, Pai
There were a few key Thai foods we missed trying before we crossed the Laotian border on the 4th of January. These are on the list for next visit. One is 'joke', a rice porridge with ginger, shallots and optional pork that locals eat for breakfast. We had it recommended to us by a few people but I never seemed to drag myself out of bed early enough to get it before the stall-owners had packed up. Brendon also wanted to try 'khao ka moo' (pork shoulder with rice).
A summary of places we liked in each city…
Bangkok
Baan E-San Muang Yos, Sukhumvit Soi 31. Our favourite restaurant in Bangkok (see Bangkok post for photos). Get the grilled stuffed salted fish.
May Veggie Home, moving to Asok for 2014. Run by an older lady who might forget you're there after a while, but the food is so good who cares?
Som Tam Nam, Siam Square, Soi 5. Looks to be the most popular som tam place in BKK. If you want vego make sure you check with the staff that there's no meat in what you ordered to avoid 'pork surprise'.
Full Stop Cafe, Soi 55. Great coffee and possibly the cleanest toilet in Thailand.
Imchan food stall, on Sukhumvit Rd near Phrom Phong station, and on Soi 55 and a few other places. Their slogan is 'Good Thaifood, very cheap'. Sums it up really. Home of the 40 baht pad thai.
Ayutthaya
Pa Thon Road market. Good variety of fresh food options, as well as clothes, gifts and furniture.
Coffee Old City. Situated across from Wat Mahathat. Good for those mornings when you need a western breakfast. Also good for a cheap bevvy in the afternoon.
Sukkhothai
Pai Restaurant (part of the Pai Sukhothai Resort), Pravetnakorn Rd. Good quality Thai food including Sukkhothai noodle soup.
Poo Restaurant, 24/3 Th Jarot Withithong. Offers a surprising selection of European beers like Kwak and Delerium Tremens. Also serves a vego version of Sukhothai noodle soup (though it wasn't as good as the 30 baht version I got from a food cart at the historical park).
Local Market, cross the bridge (walking away from Old Sukhothai) and take your second right. You'll find a bunch of food stands with communal seating in the middle. Super-cheap, plenty of places with English menus and quite a few vego dishes on offer. I thought the selection here was actually better than the more popular Night Market.
Night Market, around the outside of Wat Rachathani. Popular with tourists and Thais – after work people will pull their motorbike up to a stall, grab a plastic bag of curry or noodles for dinner and drive away. Home of the jackfruit sticky rice guy.
Chopper Bar, Pravetnakorn Rd. Seemed to be the only bar in town. Pros: vege tempura, decent music, dogs dressed in bikinis. Cons: expensive drinks, dogs dressed in bikinis were not quite toilet-trained.
Chiang Mai
Aum Vegetarian Restaurant, 65 Th Moon Muang. Best khao soi in Thailand! Don't miss it.
Bamboo Bee, 177 Ratchaphakhinai Rd. Fantastic range of vegetarian food. We tried a lot of the dishes and all were delicious. Also the best mango sticky rice I've had. The owner does everything herself and will tell you to go away and come back later if things are getting too hectic. Definitely come back.
Anchan Vegetarian Restaurant, Nimmanahaeminda Rd, between Lane 6 and 10, opposite Soi 13. One of the more upmarket vego places we tried in Chiang Mai but still very affordable. A little hard to find and out of the city centre in the uni area, which is great to hang out in. Their menu changes regularly.
Dada Cafe, Ratmakka Rd. Good breakfast spot with a lot of vego options.
Boutique della Pasta, 14 Rachadamnoen Rd, Soi 5. For your gluten and cheese fix. Run by an Italian dude who imports cheese from Italy, according to the menu. It's no Gigi but it'll do! The pastas also looked decent.
Sticky Rice Cafe, 33 Moonmuang Rd, Tae Pae Gate. The cheapest beers we found in Chiang Mai – 80 baht for large Leos.
Pai
Night markets, Chaisongkram Rd and Rangsiyanon Rd. A bit of everything – noodles, icecream, soups, Indian food, Islamic food, teas, stirfries, pancakes, mango sticky rice, meat skewers… We ate there almost every night and never got sick of it.
The Thai Kebab (TTK), Ratchadamrong Rd. Went here pretty much every second day. Felafel plate, sabich plate, shakshukah eggs all highly recommended.
Charlie & Lek, Rangsiyanon Rd. Went here for lunch on New Year's Day and ended up having a feast. They serve all the usual Thai foods – stirfries, pad thais etc – but the ingredients are top quality and the execution is perfect. The prawn pad thai was killer.
Om Garden Cafe, walk along Ratchadamrong Rd past the high school towards town and take your second left (just after Na's Kitchen). Lots of vego food and a few vegan things too from memory. Seems to be run by an English guy so the curries weren't as spicy as we had grown used to, but food was still tasty. Try the home-made ginger ale and the khao soi salad with tofu. Cakes also looked fantastic.
Pai Country House, 83 Moo 1, Rangsayanon Rd. Restaurant attached to a hotel. Had the cheapest beers in town (large Leos for 60 baht) and the stirfries and fruit shakes were cheap and good. They also have decent wifi, which is a rarity.
The Curry Shack, Thedsaban Soi 2 (off Chaisongkram Rd). Cheap and tasty. He makes five types of curry – green, red, khao soi, massaman and coconut – with meat or tofu and brown rice.
Good Life, Teseban 1 Rd. Work your way through the exotic tea list.
The House Restaurant, Chaisongkram Rd opposite Wat Pha Kham. Great lassis and vege breakfast.