Posted by Katie
After looking all over Thailand for a bar that wasn't full of seedy old men or backpackers drinking buckets we were very excited when, on our second night in Luang Prabang, we noticed a place called Icon Klub.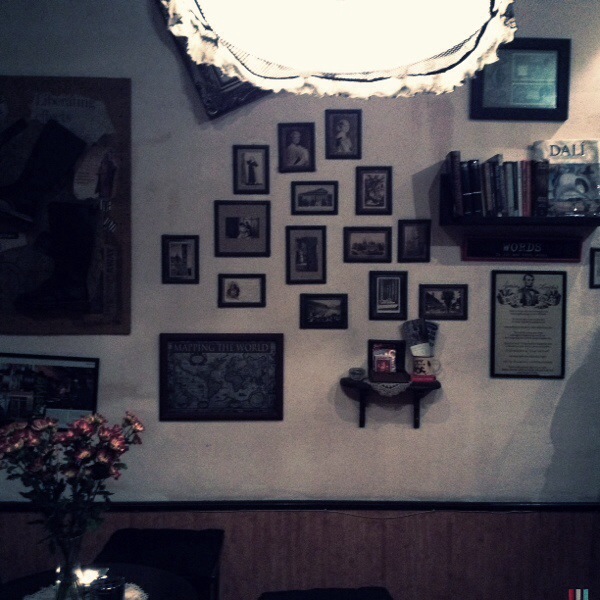 We walked in, sat at the bar, ordered a couple of Cuba Libres (a.k.a. rum and cokes) and got talking to Lisa, the owner, manager and barkeep. She loves quotes and runs her bar in accordance with one from WB Yeats: 'There are no strangers here; only friends you haven't met yet'.
Generally I think of talking to strangers as something best avoided, but through hanging out at Icon we met a lot of interesting people from all over the place at all different stages in their travels and their lives.
We drank too much Beerlao with Sal from Jersey and his Roman wife, who had been on a world trip for about six months. We talked about trying to learn bits and pieces of the language in each country, and Sal explained that his foreign language skills still consisted of understanding just enough Italian to know when his wife and mother were talking about him.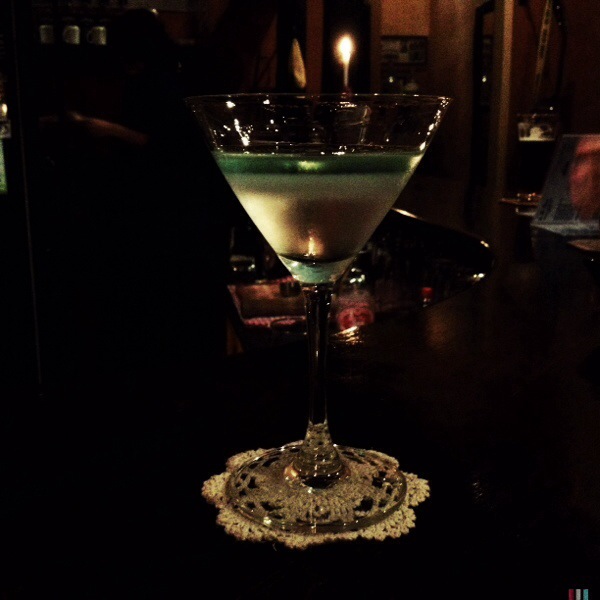 Absinthe martini: 'Like an icy lake'
It's great how open people are when they're never going to see each other again. The conversation can take any number of turns. On my birthday Lisa bought me a piece of cake and we drank absinthe martinis and talked to Simeon, a civil rights lawyer from Albany, and his daughter Elisabeth. Simeon knew Willimantic well and shot me a sympathetic look when we said we'd just spent three months there. Elisabeth had just graduated with a degree in biological anthropology and we ended up discussing the connection between AIDS and chimps.
On subsequent visits we met Nathalie from France, a filmmaker working for a NGO in Laos. We met Matthew, a British expat working on a book called The Logic of Self-Destruction. We met Costa (from Greece, of course!) and spent the best part of an hour talking about how much haloumi we were going to eat when we got home. We met Stephen from the UK, who told us about his time working as a VP in Japan and New York. We met Mike from San Diego and discussed country music and the weird history of Mormonism.
At quiet times we'd talk with Lisa and smoke her skinny menthol cigarettes. Everyone would pick a card from the quote box (redraws allowed if you didn't like what you got) and read it out. I would prattle on happily about songs she was playing. I heard the Smashing Pumpkins' cover of Fleetwood Mac's Landslide for the first time in years – it was a B-side on the CD single of Disarm, played to death by 13-year-old me. I got a little carried away when Depeche Mode's Enjoy the Silence came on. There was a morose drunken singalong to Famous Blue Raincoat, a quiet moment while Tom Waits sang Postcard From a Hooker in Minneapolis, and a night rounded out with Massive Attack's Unfinished Sympathy. But my favourite musical moment came one night when Lisa was running around serving a large group of people. A second big group walked in and stood at the bar waiting to order when Oh Yeah by Yello came on. I looked across a row of blank faces as the music pumped. It was so perfectly incongruous.
Our place at the bar
Lisa's friend Florien was making a short film about her and Icon Klub and she asked if we would come by one afternoon to be in the background of a few scenes. We arrived at 4 and met Florien along with Jasper, who runs a program where volunteers build bungalows in Lao villages, and Aaron from Oklahoma, who was about to move to Bangkok with his fiancé. Florien set up his camera, Lisa made cocktails and we all helped by drinking them.
Lisa, Aaron and Florien at work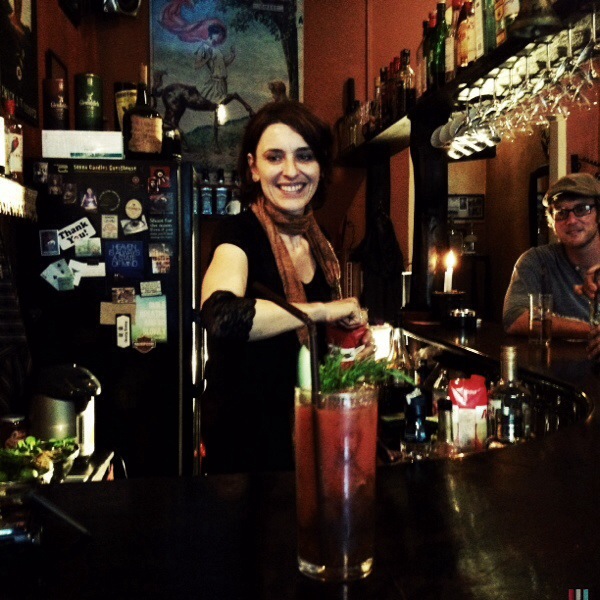 Bloody Mary
Once the filming wrapped up we hung out talking to Aaron. Mike from San Diego walked in, took one look at him and shouted 'Holy shit!!'. Turns out they both used to work together as pedicab drivers in Washington, DC.
By this stage our Laos visas were close to expiring so we booked tickets to Hanoi. What we didn't realise was that the Vietnamese consulate was closed for Tet from the 28th of Jan to the 5th of Feb, so there was no way to get visas. During this week of uncertainty we stopped into Icon Klub for numerous 'Goodbye' drinks. A small cadre of other travellers in the same position formed, all of us waiting on the consulate and running into each other at the bar. Rumours flew – some said the consulate wouldn't open till the 6th of Feb; others said it might be closed for a fortnight. Each evening we would leave and say, 'Well, we'll probably see you back here tomorrow…'
On one of these nights Lisa asked if we wanted to go for soup on her day off. We ended up hanging out all day eating, playing Bananagrams and drinking XXXL whiskey and cokes. We had dinner with Lisa and her friend Julie, who had relocated from Boston to LP with her husband about 18 months before. Talking to these two made living in Luang Prabang seem like it could actually be more than just a daydream. We were ready to move in. We didn't want our Vietnamese visas to come through after all.
But on the 6th of Feb the consulate reopened. Our paperwork was processed and we stopped in on our way home to say a real goodbye to Icon Klub and Lisa. She made us farewell Cuba Libres and we all hugged. As we walked out a little tear came to my eye.